February 2020 drama trip to Disneyland Paris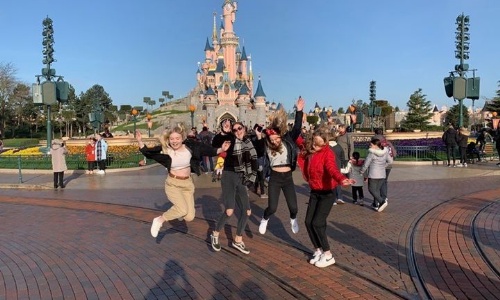 Students travelled to Disneyland Paris to take part in a Performing Arts workshop and seminar in the rehearsal studios used for the parades and shows at Disney.
The workshop was led by a professional performing arts tutor employed by Disney who directed a performance of 'Never Had A Friend Lime Me' from 'Aladdin'. The one and a half-hour workshop culminated in a performance to another school.
The seminar gave students a valuable insight into the world of performing arts and was led by an industry standard vocal coach. Students were shown a variety of processes from behind the scenes at Disney and were given opportunities to ask questions at the end.
Students also had time to take advantage of social time, having park entry tickets across the two days. Students enjoyed the rides, shows and evening performances.
One of the students said, "The amount of independence on the trip was enjoyable and the workshops and seminar were extremely beneficial. I would strongly recommend the trip and the accommodation to anyone!"