March 2020 - Y7 netball tournament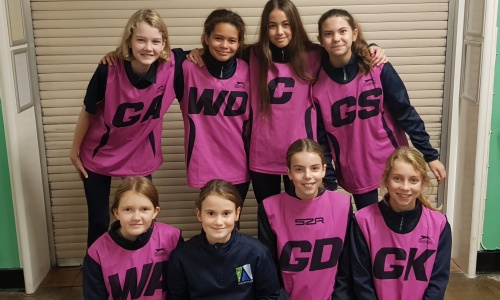 Well done to our fantastic junior netball team who played last night at the Great Yarmouth Schools Tournament hosted here at Acle. After a wonderful day of sunshine, the rain started as the tournament began, but this didn't stop our girls from playing some excellent netball.
Acle faced Caister in the first match and Marjorie, joint player of the tournament alongside Lydia, was fantastic playing out of position in GD due to an injury to Vice-Captain Ruby. Marjorie and Florence in defence played so well against a very good GA to restrict her chances. This enabled Ellen and Kiera to do the business in attack and Acle won 4-2.
Next up was Flegg and in a tight affair, Acle defended resolutely and won the game by a single goal. Acle carried on their rich form against Venture in their third match and the mid court players Amelia, Daisy and Phoebe continuously fed the attacking two to run out 5-0 winners.
Acle then beat Lynn Grove in another tight match, with Lydia playing her best game in Acle colours with plenty of interceptions made. Acle then went into arguably the toughest match against a very strong Charter side, and although they went behind, the girls pulled the score back to one goal behind and missed an opportunity to equalise five seconds before time.
The girls had put in so much effort by this point and they lost their final match to Cliff Park by two goals. Despite this, the girls finished runners-up behind Charter against all seven schools in the borough, which alongside their third place league finish, demonstrates just how far our youngest team have come this year. We look forward to seeing them progress in years to come and hopefully challenge to get to the county finals next year.