Dolphin Class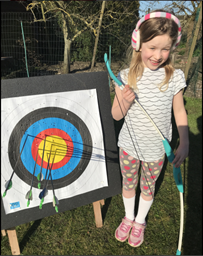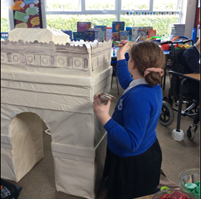 It has been wonderful being back in school.
In the woods we have been cooking. We have made Damper which is a form of Australian bread, peppermint tea, baked potatoes and roasted vegetables. We reckon we could survive in the wild for at least five hours!
We have started swimming again which is one of our favourite activities. Lots of us have gained our distance badges. We have also been on a school trip to Wells beach where the Holkham staff helped us learn more about the wildlife and coastline and how to care for it. We also had time to do a scavenger hunt where we collected lots of beach treasure. Back in school we turned these treasures into jewellery.
We really enjoyed our sports day, our trip to the Sainsbury Centre and to Holkham.
English
Last half term, Dolphins looked at the way our favourite authors wrote their stories. At first, this meant examining the style of David Walliams and how he used humour, crazy verbs and new and imagined adjectives to create an enthralling and entertaining narrative in his books Mr Stink and Mr Minging. We also looked at the infamous Andy Stanton and his books involving the wretched Mr Gumm. From this we pulled out his wonderful use of hyperbole, invented words and exaggerated similes to create a wickedly entertaining style. The children thoroughly enjoyed it.
Maths
In Maths, we enjoyed exploring geometry, shape, space and measures. We discovered how to draw accurate 2D shapes and use then to then create 3D shapes. A trip to the Sainsbury Centre for the Visual Arts inspired us to see how maths and art can be linked together to produce works that examining form, scale and space.
Reading
As unusual, the children regularly read either their levelled or personal books and also completed many guided reading sessions, covering aspects of poetry, fictional and non-fiction texts. Our class book was "Mr.Stink" and "The Biscuit Billionaire."
P.E.
PE was all about well-being and personal skill development. We examined a broad range of basic hand-eye co-ordination skills that the children could use in a variety of specific games. We also looked a movement, prediction and passing, as well as catching and throwing with speed and accuracy.
Our PE days are Wednesdays (with Mrs Gathercole) and Fridays (with Mr Bates).
Topic
In Topic, Dolphins enhanced their "Life's a Beach" work with two fantastic trips – one to Wells Beach and another to the woodlands at Holkham, where we made beach jewellery, created temporary art, built fires, recognised different flora and fauna and developed our teamwork skills and experience. In class we compared Whitby with our lovely local spot, Burnham Overy Staithe.
Class Dojo
Keep an eye out on class-dojo for regular updates on our learning journey.
Class Dojo is our main form of communication with parents. If you have not yet signed up for Class Dojo and would like to please do not hesitate to come and see us.We are more than happy to help if you are having difficulty in accessing this.
Home Learning
A home learning menu will be given out at the beginning of each half term.These activities are suggestions linked to the topic for the half term, but you are free to explore other home learning opportunities with your child.
Belongings
Please ensure your child's clothing and belongings are clearly labelled, including their woodland kit and PE kit.