Monday 11th May - Reception Blog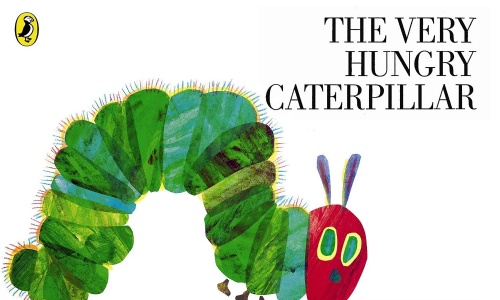 Home Learning for Reception for week beginning 11th May 2020
This week we are basing our learning on 'THE VERY HUNGRY CATERPILLAR' by Eric Carle. There are some activities at the bottom, some online, some you can print out if you have a printer, and some suggestions of things to do.
MATHS
How many circles can you find on each page of The Very Hungry Caterpillar? Can you find any other books on your bookshelf that have a pattern at the beginning?
Building on the theme of circles. Let's try some caterpillar maths. You could use finger painting for this if you want! Get your child to finger paint/draw circles together for a caterpillar's body. Ask them to count how many body parts their caterpillar has. Can they do another caterpillar that is LONGER than the first. Count the body parts to check. Can they do one that is SHORTER than the first. Again count to check. You could do lots of caterpillars using questions like: can you do a caterpillar with 2 MORE/LESS body parts than this one.
Extend the previous activity to doubles. Ask your child to draw two little legs on each body part of the caterpillar. Then support them to count in twos!
Try some fruit maths word problems e.g. How many pieces of fruit did the Hungry Caterpillar eat on Wednesday and Friday. Support your child to add them together if they are struggling. For a really hard challenge you could ask, how many more pieces of food did the caterpillar eat on Friday, than on Tuesday? A real toughie!
Have a picnic – you can eat it indoors if the weather is not good. Let your child prepare it. Go on, be brave! Then ask questions like this:
How many pieces of cutlery are there altogether?Extension question: How many would there be if we invited 2 more people to the picnic? (Get them to draw it out to help explain the answer.
How many plates have we got?Extension question:How many MORE plates would we need if we were to have 10 people at our picnic?
How many plates and forks are there? See if they can use their fingers to add them together rather than just counting what they can see.
WRITING
Write a list of 5 mini beasts you might find in the garden
Write a list of your 5 foods you might buy at the supermarket this week
Write a sentence about which food you would eat on a Thursday!
Write a sentence to your teacher about what you have been doing to keep healthy whilst you've been off school.
Try making a fruit smoothie. Can you write the ingredients for me to try too? If you'd like more writing, you could even write the instructions to make it!
READING
We know lots of the children are finding reading particularly challenging and this is causing tantrums at home so to help re-build their confidence choose one of these books for them to read from Oxford Owls: https://www.oxfordowl.co.uk/
Sign in (or sign up – it's free!) then scroll down and select Oxford Reading Tree, then Songbird phonics and you will then be able to access/download these books
Some games are free, some are not.We only use the free ones in school!
OTHER ACTIVITIES
Draw a butterfly in your yellow book. Can you decorate the edge of the page with a shape or shapes of your choice. You may want to create a repeating pattern.
Lots of famous paintings use circles. The one below is painted by an artist called Wassily Kandinski. What do you notice about the circles? Could you paint/draw/colour your own representation of this using circles or a different shape?

Teach your child about the life cycle of a butterfly. Below there is a power point to watch to help this, and then a cracking video:
https://www.youtube.com/watch?v=kVm5k99PnBk
You could extend this to looking at the life cycle of a frog too.
There is a company where you are able to purchase caterpillars to keep at home so your child can watch the process for themselves. However, there is a cost implication to this. If you are interested, visit: https://www.insectlore.co.uk/
If you go onto: https://www.twinkl.co.uk/ (you can sign up for a free account) there are literally hundreds of different activities relating to this topic. It will keep you busy all week, well all month to be honest!
Have a good week everyone!