Miss Kemp's Chocolate Whoopie Pies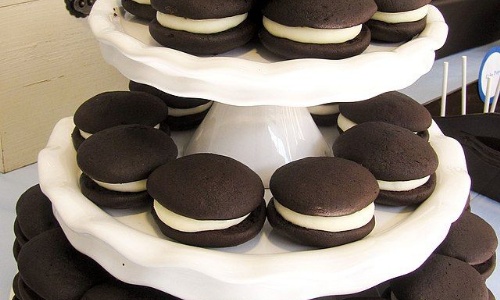 Whoopie pies are considered a Pennsylvania Amish tradition. They have also been known as a "gobs". The Amish treat was originally used as a great way to use up leftover cake batters.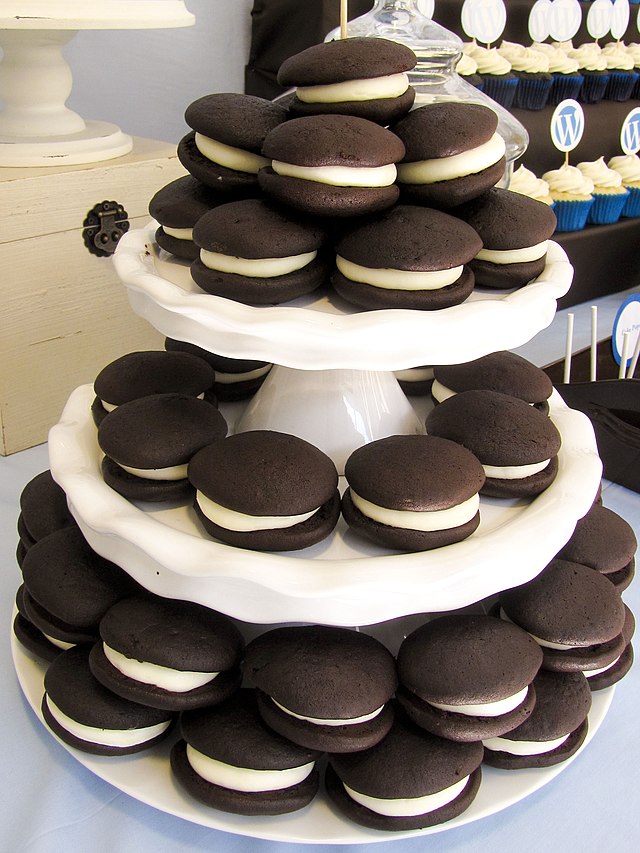 Ingredients:
230g plain flour
75g cocoa powder
1 tsp baking powder
1/4 tsp salt
170g unsalted butter (room temp)
150g granulated sugar
1 large egg (room temp)
1 tsp vanilla extract
60ml buttermilk
120ml strong coffee (lukewarm), or water
For the filling:
225g unsalted butter (room temp)
1 tsp vanilla extract
1 jar marshmallow creme (e.g. Fluff)
230g icing sugar (sifted)
Preheat oven to 180oc. Line two baking sheets with parchment paper
Instructions:
In a large bowl sift together the flour, cocoa, baking powder and salt. In another bowl beat/whisk together the butter and sugar until fluffy.
Add the egg, then vanilla. Mix the coffee and buttermilk in a mug. Whisking/beating slowly, alternate scoops of the flour mixture and the coffee/buttermilk mixture, in three additions, beginning and ending with the flour mixture.
Drop large tablespoons / ice cream scoops of the mixture onto the baking sheet, spaced about 2 inches apart. You should have about 30 cookies. With a moistened back of a spoon, gently smooth down the tops.
Bake for 9-10 minutes or until the cookies spring back when lightly pressed. Remove from the oven and transfer to a wire rack to cool.
Instructions for the filling:
In a large bowl, use an electric whisk to beat the butter until smooth. Then beat in the vanilla and marshmallow creme.
On low speed, beat in the icing sugar. You might want to drape a tea towel over your whisk so the icing sugar doesn't go everywhere.
Scrape down the sides as needed. When incorporated, beat on high speed until light and fluffy. If necessary, add a little more icing sugar or milk/cream to make it a thick consistency (must not be runny).
Assembly:
Take one cooled cookie and spread a heaping tablespoon of the filling on the flat side. Top with another cookie. This should make about 15 sandwiched-together whoopie pies. Once assembled, these can be stored in the fridge for a couple of days.