Miss Matthew's Creamy Prawn and Courgette Pasta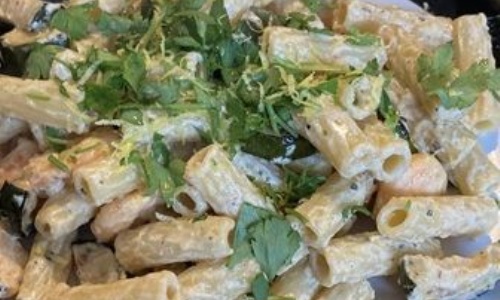 A perfect Spring/Summer dish!
Ingredients:
360g Rigatoni Pasta
2 Courgettes
1 Bunch Parsley
1 Lemon
2 Garlic Cloves
300g Crème Fraiche
200ml Water
1 Vegetable Stock Cube
300g King Prawns
Method:
1. Boil your kettle and pour the water into a large saucepan on high heat, adding ½ tsp of salt.
2. When boiling, stir in the rigatoni and leave to cook for 12 minutes.
3. Meanwhile, trim the ends off the courgettes, halve lengthways and slice into 1cm half-moons.
4. Roughly chop the parsley, including the stalks.
5. Zest and halve the lemon.
6. Peel and grate the garlic (or use a garlic press).
7. Heat a large frying pan on high heat (no oil) and add the courgette. Cook, until starting to brown, 3-4 minutes on each side.
8. Add the garlic and cook, stirring, for 1 minute.
9. Once the courgettes are browned, reduce the heat and add the crème fraiche, water and vegetable stock to the pan. Season with salt and pepper.
10. Stir together, bring to a simmer and cook until the sauce has thickened slightly, 3-4mins.
11. Stir the prawns into the sauce and continue to simmer until the prawns are cooked through 5-6 minutes.
12. Meanwhile, mix together the lemon zest and parsley in a small bowl.
13. Drain the cooked rigatoni pasta and add to the sauce.
14. Add a squeeze of lemon juice to taste.
15. Serve topped with the lemon zest and parsley mix.