Mr Dobson's Chicken and Peach Pasta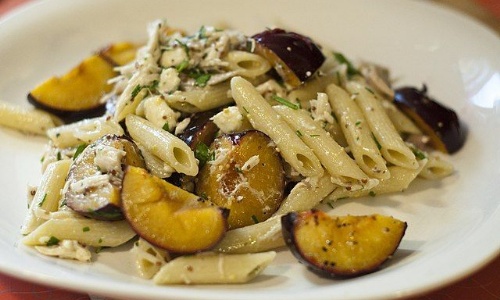 Who would have thought that chicken and peaches go well together, what a pleasant surprise!

Ingredients:
1 chicken breast
1 tin of peaches
2 teaspoons nutmeg
100g of flour
1 chicken stock cube
100ml of cream (use more of less depending on how rich you would like your sauce, you can also substitute with low fat yoghurt for a healthier alternative.)
1 onion
3-4 nests of tagliatelle or penne pasta
1 tsp Salt + 1 tsp Pepper
Instructions:
Bring a pan of salted water to the boil and add pasta. Simmer the pasta for approx. 20 mins or until soft.
Mix flour, 1 tsp nutmeg, salt and pepper in a bowl.
Cut chicken breast into small chunks and coat in the flour mixture.
Chop onions into small to medium chunks.
Heat a small amount of oil in a frying pan and brown chicken and onions.
Once chicken is cooked and onions are soft, add the chicken stock cube, 1tsp of nutmeg and about approx. 300ml of water. Once boiling, simmer for 5 minutes.
Add cream and drained peaches (you can add the syrup if you are feeling cheeky) and simmer for 5 minutes.
Drain pasta and serve chicken and peaches over the top. Season to taste.