Mr Gray's Chicken Parma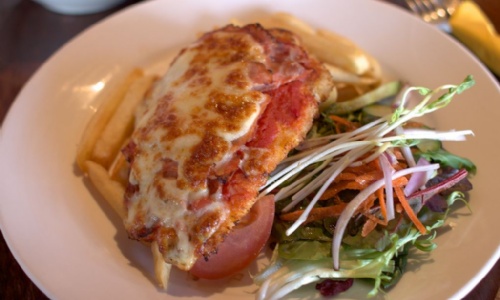 The dish, also known as "chicken parm", originated in the northeast United States from Italian immigrants, and became a popular staple in restaurants serving Italian-American cuisine by the 1950s.
INGREDIENTS
• 4 x 200g chicken breasts
• 1 cup (250ml) buttermilk, plus extra 1/4 cup (60ml)
• 1 garlic clove crushed, plus extra halved clove
• 1/4 cup (70g) mild American mustard
• 2 cups (200g) dried breadcrumbs
• 2 eggs
• 1 cup (150g) plain flour
• 2 tbs extra virgin olive oil
• 2 cups (500ml) good-quality tomato passata
• 3/4 cup loosely packed basil leaves
• 100g unsalted butter, chopped
• 4 thin slices (80g) smoked ham
• 2 balls buffalo mozzarella, sliced
• 1/2 cup (40g) finely grated parmesan
• French fries (optional), to serve
METHOD
1. Place chicken between two pieces of plastic wrap and, using a meat mallet or rolling pin, beat until flat. Combine buttermilk, crushed garlic, mustard and 1 tsp salt flakes in a shallow dish. Add chicken and turn to coat. Marinate for 30 minutes (or longer if time allows).
2. Place breadcrumbs in a shallow dish. In a second dish, whisk together eggs and extra 1/4 cup (60ml) buttermilk. Place flour in a third dish. Remove chicken from marinade, drain well, then dust with flour, dip into the egg mixture, and coat with breadcrumbs. Place onto a tray and chill for 10 minutes.
3. Meanwhile, heat oil in a large frying pan over high heat. Add extra halved garlic and cook, stirring regularly, for 2 minutes or until browned. Add passata and 1/4 cup basil, and stir to combine. Bring to the boil and cook for 5 minutes or until sauce has reduced by one-third.
4. Preheat oven grill to high heat. Melt butter in a large heavy-based frying pan over medium-low heat. In 2 batches, add schnitzels and cook for 4-5 minutes each side or until evenly golden. Transfer to a baking tray and repeat with remaining schnitzels. Top schnitzels with ham and spoon over tomato sauce. Place some of the remaining basil over each. Top with mozzarella and sprinkle with parmesan. Transfer to top shelf of oven and grill, checking regularly, for 6 minutes or until cheese is melted and golden
5. Serve with French fries or salad or both!