Mr Taylor's Tarte Tatin Aux Poires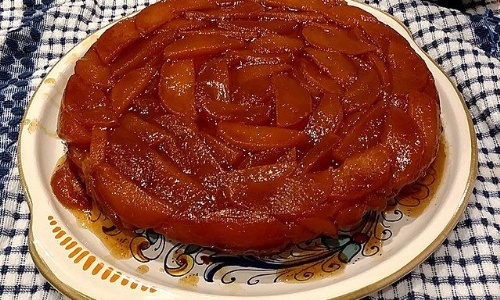 Named after the woman who invented it, the Tarte Tatin is a famous French "upside-down" caramelized apple or pear tart.
Ingredients:
145 grams of sugar
50 grams of butter
Half a tsp of ground ginger
Half a tsp of cinnamon
3 pears peeled and cored and cut in strips
450 grams of puff pastry Crème fraîche or cream (optional)
Heat the oven to 220° C/Gas mark 7
Instructions:
In an ovenproof non-stick frying pan (22 cm diameter), heat (medium heat) the sugar, stirring constantly until it becomes gold en with the consistency of soft caramel.
Add the butter, ginger and cinnamon then stir well.
Place the pears using a circular manner into the frying pan and cover them with the caramel.
Turn the heat down, cover and simmer for five minutes until the pears are just beginning to soften.
Remove the pan from the heat. You may need to rearrange the pears in a nice circular shape. Leave to cool.
Sprinkle some flour on a work top and roll the pastry out and cut to a circular shape, roughly 24 cm in diameter.
Place the pastry on top of the pears in the frying pan. Fold down the side of the pan so that the pastry covers the pears fully.
Bake in the oven for around 20-25 minutes (adapt cooking time for fan assisted ovens) or until the pastry is golden and risen. Leave on the side for ten minutes.
Carefully turn over on to a serving dish and serve warm with fresh cream. Best eaten on the day.