Duncan Baker MP Awards Students at APHS
Alderman Peel High were delighted to welcome Duncan Baker MP into school, to help celebrate the success of two Year 8 students.
In the Summer Term of 2020/21, 'LABesties' Lily Rimmer and Annabelle Platt made it to the final of the Amazon Longitude Explorer Prize, with their invention of a wearable bluetooth device that measures air pollution in a user's local area.
Their innovative creation landed Lily & Annabelle second place in the nation-wide competition and won £5,000 for their school, amongst other prizes.
After seeing the story (linked above) in the local paper, Duncan Baker MP approached the school and asked to meet the two young entrepreneurs. So a few weeks later, Mr Baker and Mr Thrower (CEO of The Wensum Trust) were invited to attend a prize giving event, which took place during Mrs Moffat's Year 8 Design & Technology class on Tuesday 9 November 2021.
Mr Baker spoke to each of the students about their class assignment, before sitting down with Lily and Annabelle to chat about the design of their invention and what inspired them to create it. The bluetooth device provides users with the cleanest routes to a desired destination, as well as tips on individual action that can be taken to improve pollution levels in their local area.
"I think our design is important because it will make people become more 'air aware' of carbon emissions and hopefully help everyone to reduce air pollution so that we can all breathe clean air in the future."

- Lily Rimmer (year 8)
The girls were then awarded their prizes which included a glass trophy, engraved with the girls' team name 'LABesties', a journal, a pair of Beats by Dre earphones and, much to their delight, a Destek VR headset each. The school has also been awarded £5,000 prize money thanks to Annabelle & Lily's success. The girls have asked that the money be spent on encouraging more girls into STEM careers and encouraging all students to create a greener future.
"I was really excited to receive even more generous prizes. We have already been rewarded so much! It has really shown me the benefit of all the hard work I put in. The idea was only the start of it... the real challenge was putting in the effort to get to the final product".

- Annabelle Platt (year 8)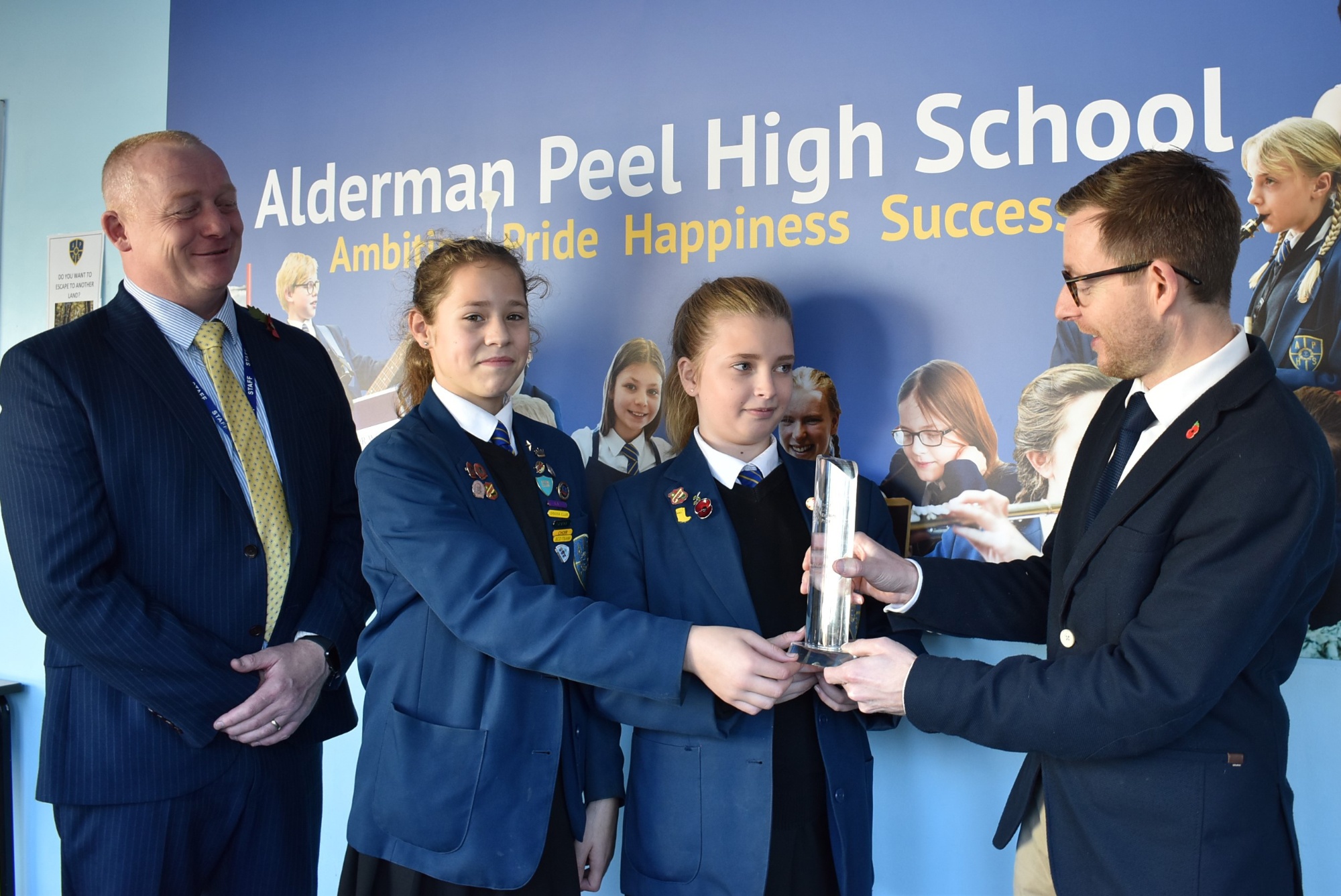 "It's amazing to see Year 8 pupils put so much energy and creativity into a project. The depth of detail that Lily and Annabelle produced was just incredible - from the creation of the idea, right the way through to product design, testing, modelling and marketing of the product."

- Duncan Baker MP
Mrs Moffat, Design & Technology Teacher and STEM Coordinator at APHS says "It was great to welcome Daniel and Duncan into my classroom to learn more about Annabelle and Lily's success and to present them with their well-deserved prizes. I am extremely proud of the girls' amazing accomplishment and to have had a hand in inspiring them to design such an impressive solution to help combat air pollution."
"Everybody I met in that class, were such nice young individuals who were keen to discuss what they were doing and it was clear that they were all so proud of Lily and Annabelle and how well they had done."
"You can certainly feel, as soon as you walk into the school, that you are in a kind and caring environment, where people look out for one another and are proud of each other. I think that's a really lovely attribute to have working in a school."

- Duncan baker Mp
Mr Ogle, School Principal, says "It was a genuine privilege to welcome Duncan Baker MP to Alderman Peel High School. He has since written to me to express his gratitude and to commend the enthusiasm of our staff and students. I hope this to be the start of a fruitful partnership in developing additional opportunities for young people in North Norfolk and across The Wensum Trust."