A-Level Results Day
On 13th August 2020, staff welcomed Year 13 students back into school to collect their A-Level exam results.
At the start of the academic year, our Year 13 students had no way of knowing that they would be receiving their exam results without having sat their actual exams! It certainly made for a strange Results Day, but we were still delighted to see students collecting their results and to chat to them about their next steps and the impact the pandemic has had on their plans for the future…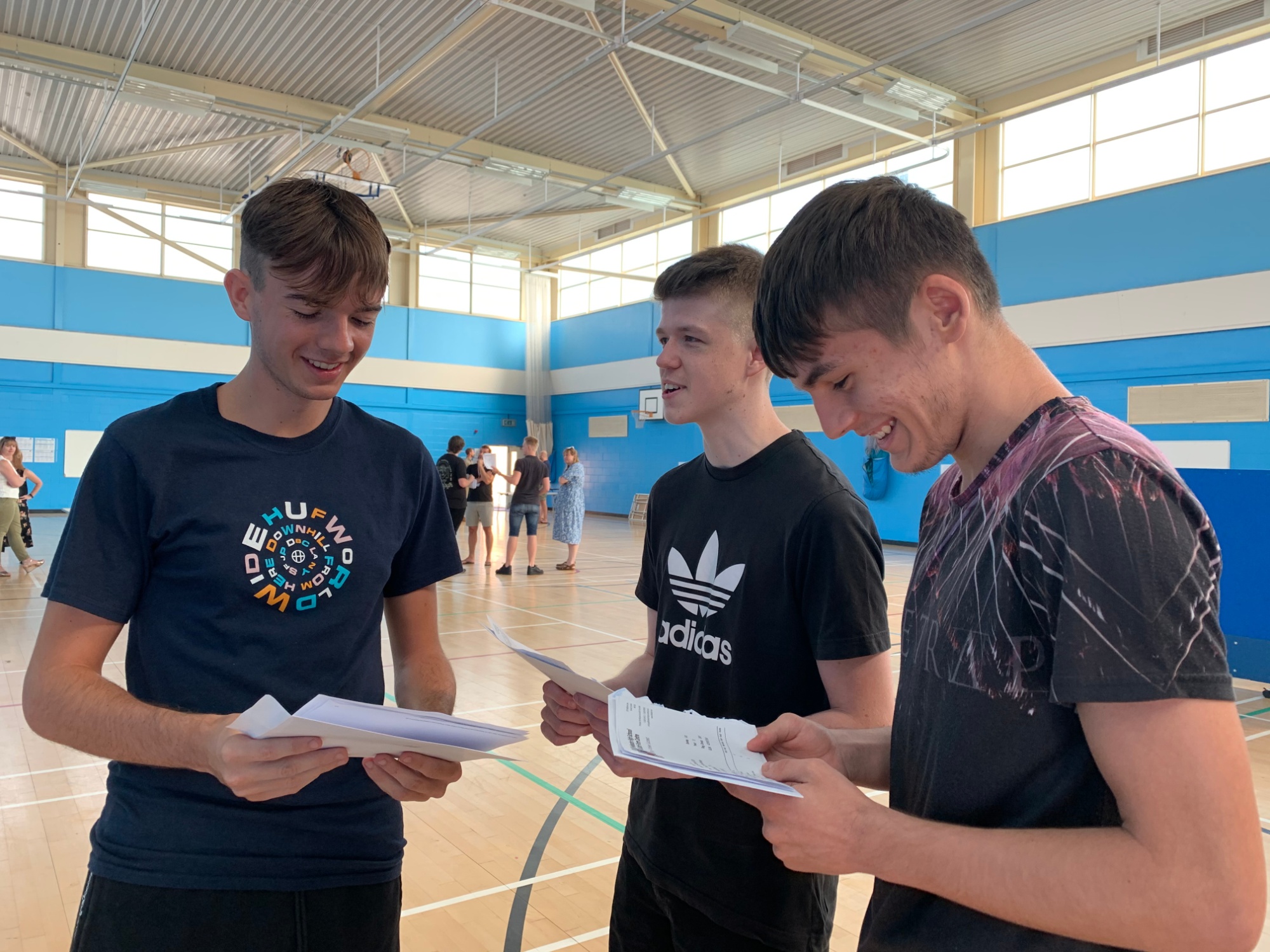 Jack Hill (pictured above, right) who studied Business Studies and Engineering, was expecting to crack down on some revision and to do well in his exams this year. He had not originally planned to attend university after Sixth Form but collecting his results today, he told us that he would be moving on to study Marketing at Leeds Beckett University. "It looks like companies are hiring less people, which limits job opportunities… I didn't like the idea of studying further and thought I would prefer to earn money but I have matured in the last year, and am now a lot more focused so I changed my mind. Thanks to my teachers and the progress I was able to make, I'll be going to uni in September"
Jamie Hall (pictured above, centre) who studied ICT, Film and Sociology has successfully secured the grades needed to progress onto an apprenticeship to study web design and web development. He says "Although I preferred Year 13 to Year 12, I'm still a little disappointed by the way this year has gone. But there's not really much you can do about it. The support we've had from our teachers, who have been emailing us throughout the school closure, has been really good".

Rebecca Cook (pictured above) who received an A in Biology, an A in Chemistry and a B in Maths, had planned to take a gap year before going on to study Biology at the University of Nottingham in 2021. "I had planned to take my gap year before Coronavirus was even a thing! I was going to travel and do some animal conservation work in Africa, but I doubt that will be happening now… I'm kind of disappointed, because I've now got to do a year of something else, but I'm still glad I stuck to my choice of deferring." When asked how she feels about the way the pandemic has affected her studies, Rebecca said "I'm kind of disappointed, because I've got to spend my gap year doing something else, but I'm still glad I stuck to my choice of deferring. At the start, I thought this is so weird – but it's been going on for so long that I've just gotten used to it!"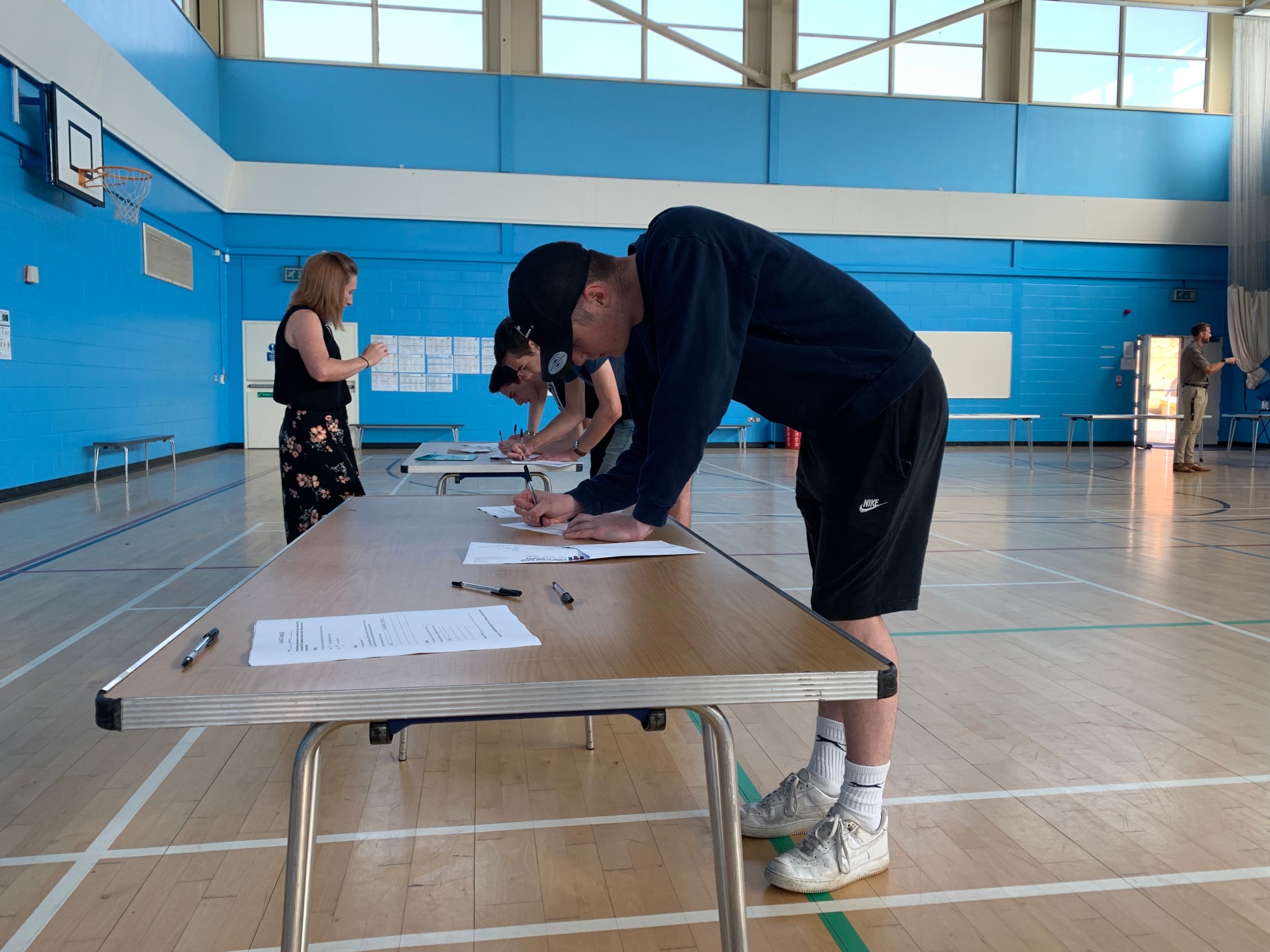 "After a very unusual year, it was great to have some 'normality' and see our students pick up their results in person, before they move on to their next steps. The way this cohort of students has handled a very difficult few months has been exemplary. We wish them all the best for the future at either university, in apprenticeships or employment".

- Mr Richard Taylor, Director of Sixth Form
---
How were this year's exam results determined?
After this summer's exams were cancelled, teachers submitted grades they thought each student would have received if they had sat the papers. This was based on a number of pieces of evidence taken over the two years. Alongside this a rank order of which students teachers believed would do best within each grade for each subject was completed. Exam boards then moderated these school-assessed grades to ensure this year's results were not significantly higher than previous years and the value of students' grades were not undermined. As part of this process, exam boards have also taken into account historical performance data from previous years.
If you have any questions or concerns regarding your A-Level results, please click here to contact the Sixth Form.