Acle Academy's New School Garden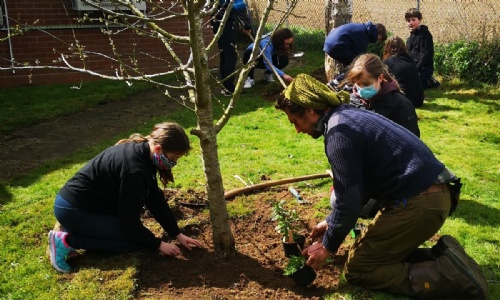 After months of national lock-down, our students are excited to be getting outside and into the sunshine and fresh air
Acle Academy have worked alongside The Papillon Project to offer students the wonderful opportunity to take part in creating a School Garden. The Papillon Project is a Norfolk-based charity that helps schools establish allotments and gardens to help educate children on important life skills through reconnecting with nature.
On our first day of working on the Garden, we had an astounding amount of student volunteers from Year 7 and 8, who had also participated in the initial design of the garden. We cleared the area up and managed to dig multiple allotments and plant things such as beetroot, borage, peas, onions, artichoke, radishes and sunflowers.
"Our goal for our School garden is to create a functional space, which can be used by students and teachers alike. It will benefit multiple subject areas, namely Food Technology, where we plan to use some of the food we grow as ingredients. It will also give us the opportunity to teach students about seasonality and will lend itself nicely to outdoor Biology lessons where nature research and experiments can take place. The benefits also extend to improving student well-being and mental health — we want to give our students a quiet area in school, where they can go and relax and enjoy nature."

- Mr Kennedy, Instructor of Hospitality & Catering
We plan to focus on using recycled and donated materials to keep maintenance costs down to a minimum in this student-led project. Students are appealing to the local community to help by donating funds, or any of the following materials:
Gardening equipment
Seeds or bulbs
Outdoor plants
Compost
Storage items
Recyclable materials (such as tyres, pallets or bathtubs)
Please Contact Us if you can help, and remember to spread the word with other members of our community.