Fundraiser for New School Building
The Friends of Burnham Market Primary School (FOBS) are currently raising funds for a new Learning Room and Sensory Garden at the school.
Burnham Market Primary School delivers excellent provision for a significant number of children with special educational needs. However, due to the changes brought about by Covid-19, this number is on the rise with more children struggling to adapt to school life, following last year's closures.
Our staff know how important it is for these children to be able to spend quality time outside of the classroom when things begin to feel overwhelming. We do our best to find appropriate spaces to run one-to-one or small group sessions in these instances but, without additional facilities, it will become increasingly difficult to maintain the quality of our SEND provision, and to provide the calm and quiet environment needed by some of our children.
Plans are underway to build a new Learning Room, which will be surrounded by a sensory garden that contains various smelling herbs and beautiful flowers. Members of our Parent Teacher Association, Friends of Burnham Market Primary School (FOBS), are also planning to use their gardening skills to pave the way to the area with brightly coloured plants and shrubbery.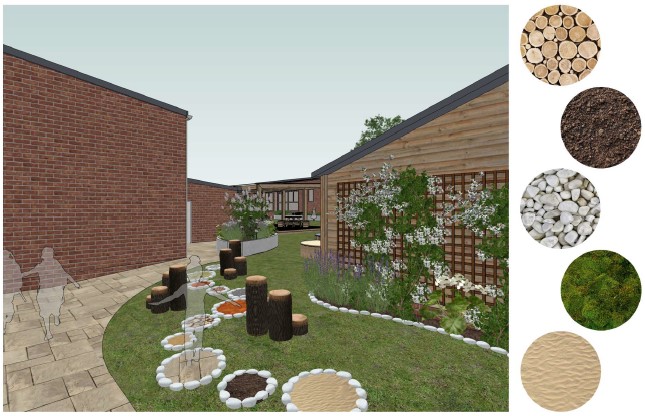 "We believe it is more important than ever to concentrate on the mental health of our children. FOBS are passionate about providing the best possible learning experience for them, which is why we have started fundraising for this project, in conjunction with the school. We feel this will create something special in the heart of the school, which will have a lasting impact on the children and families in our community."

- Jane Skeet, FOBS Treasurer
With enough funding, the new Learning Room and Sensory Garden will provide the quiet and nurturing environment that is needed to support the mental health and well-being of our children, and to focus on their individual needs. FOBS have been fortunate enough to have the help of local builders, Grocott and Murfit, through the Building Norfolk scheme. They have not only pledged a sum of money towards the building, but have also helped to oversee the project and worked with local contractors on behalf of the school.

"We are thrilled at the prospect of providing this much-needed resource so that all children and staff can benefit from a dedicated space which will have so many uses. The kitchen area, sensory garden and additional classroom space will provide so many children with the space they need to just 'be' and to enjoy their surroundings and focus on positive mental development".

- Mrs Stroulger, Headteacher
Thanks to some very generous and gratefully received donations, we have almost reached our target. Our PTA have worked tirelessly to fundraise for this project but, like many other community groups, COVID-19 has prevented us from holding the many events that would usually help us to fundraise. We need a little more funding before our project can be brought to reality, so please help us by donating if you can.
---