New Trim Trail Promotes Active Play Times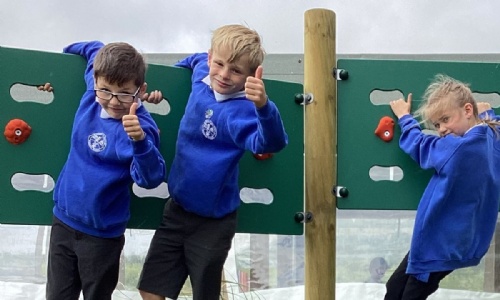 Burnham Market Primary School has successfully raised funds to replace thy old play equipment with a new trim trail.
After a generous donation from The Harold Moorhouse Trust, a large contribution from The Friends Of Burnham Market Primary School (FOBS), the use of some Sports Premium funding and a number of fundraiser quiz nights at local pub The Lord Nelson in Burnham Thorpe, BMPS have finally managed to instal a new section of trim trail, which now completes a fantastic and inviting active play space for all pupils.
Mrs Morrell, PE Lead has been delighted with the new trim trail and how well it has been used already.
"It has been wonderful to see so many pupils using the new trim trail at break and lunchtime. There was real excitement from our pupils watching the installation take place and once completed we had a lot of very excited children wanting to experience features such as the traverse wall, wobbly bridge and the rolling the log! We are blessed with wonderful grounds here at BMPS, the trim trail completes are play equipment area and adds to our active play time offer. Thank you to all that donated to make the project happen, it is very much appreciated. "