Olympic Gymnast Visits BMPS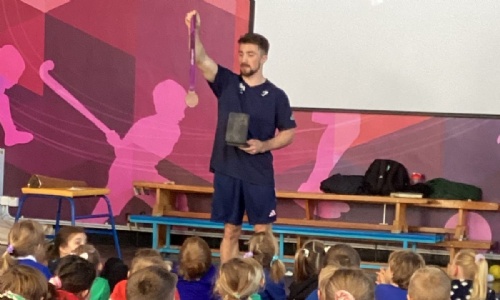 On Thursday 9th November, BMPS welcomed GB gymnast and Olympic bronze medallist Sam Oldham into school as part of their PE 'Be Inspired' project.
The children at BMPS were treated to an incredibly inspirational day with GB gymnast Sam Oldham. The day started with a whole school assembly, where Sam spoke passionately about his journey from a very active and fidgety 7-year-old boy to an Olympic medallist at the age of 19. Sam represented Team GB at the London 2012 Olympics, it had been his dream since finding the sport aged 7 and he made that dream become a reality through hard work and sheer determination. He had both pupils and adults captivated by his story and he put on a short display which left our pupils gobsmacked!
Each class was then treated to a 45-minute gymnastics session with Sam followed by an opportunity to hold his Olympic medal and torch from the 2012 parade leading up to the lighting of the Olympic flame. Sam finished the day with a special masterclass session for 6 of our Kittiwake pupils, all whom are gymnasts and were eager to learn more from Sam. What an incredible experience!
Our Be Inspired project continues to go from strength to strength. Next month we will be taking a group of pupils to Wembley Stadium to watch the Lionesses V Netherlands game. Most will be experiencing live sport for the very first time as we continue our mission of creating local memories and broadening the horizons of our pupils.