Dolphin Class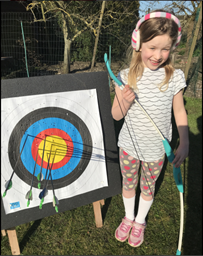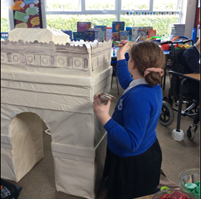 Overview of last half term
Last half term we have been working from home. We have had fun working together in our daily live lessons. Each week we had a different learning focus based around our whole school topic of How Does Your Garden Grow? It was fun the week we created William Morris prints. Another week we became gardening experts and investigated what happens when we place vegetable tops in saucers of water. Autumn showed us the tiny hair roots which had formed on her carrot!
The key worker children in Dolphin class made an amazing scale model of the Arc de Triomphe during our French week. Those of us who were working at home researched the history of the Arc De Triomphe. Did you know that Charles Godfrey became famous for flying through the Arc de Triomphe in Paris in 1919? Zara discovered this amazing fact and shared it with us all.
Another week we created atoms and explored how they group together to form molecules. We froze balloons filled with coloured water and explored the way they melted and changed form. Science has been great during home learning. There are so many experiments you can do around the house.
The start of this half term
This half term we are continuing with our topic, How Does Your Garden Grow? We began by exploring the gardens created by Capability Brown. We designed and built miniature gardens. Those of us in school went into the woodland area and built the most amazing mini gardens. The rest of us who were working from home worked hard designing and building gardens in shoe boxes, in trays and in our gardens. We had lots of mathematical features in our gardens such as symmetry and regular 2D shapes.
Book week has been exciting. Each day we have made a different type of book during our live lessons. We have made concertina books, rolling books, envelope books and magic folding secret books. We filled them with stories written using story dice which we made. We were challenged to estimate how many books we would need to stack up to create a tower the same size as ourself.
It's been tough working from home, but our live lessons have kept us together as a team and we are all very excited about being back together again.
English
Last half term, during lockdown, we spent our time improving our vocabulary and punctuation skills. We wrote some lovely poems and created some imaginative mini stories.
Maths
Maths has kept us thinking and reasoning whilst we've been at home. We have been on a code breaking mission around a virtual library where we had to solve maths problems to set ourselves free. We worked together to explore equivalent fractions, that involved a lot of paper folding which made us all giggle as we learnt together online.
Reading
We have had a different audio book to listen to each week. The teachers have recorded stories for us each week too. Some of us have read a stack of books as tall as a chair. Lockdown has been a lovely quiet time for reading. When we have met up for live lessons we talked about the books we have read and explored inference questions which we are becoming experts at answering.
P.E.
PE has been really inventive during lockdown. Some of us have done Joe Wicks every day, others have done Cosmic yoga, but our favourite sessions have been the sock juggling lessons. Those of us who have been in in school had heaps of fun doing space hopper yoga!
Topic
Our topic has been all about the way our gardens grow. We have incorporated all of our learning challenges into this theme. We have planned gardens, grown vegetable tops, explored the atomic structure of water and looked at the changing seasons.
Class Dojo
Keep an eye out on class-dojo for regular updates on our learning journey.
Class Dojo is our main form of communication with parents. If you have not yet signed up for Class Dojo and would like to please do not hesitate to come and see us.We are more than happy to help if you are having difficulty in accessing this.
Home Learning
A home learning menu will be given out at the beginning of each half term.These activities are suggestions linked to the topic for the half term, but you are free to explore other home learning opportunities with your child.
Belongings
Please ensure your child's clothing and belongings are clearly labelled, including their woodland kit and PE kit.