Our Curriculum
Our Trust's Vision and Strategic Framework

For Children, Families and Communities
The Wensum Trust is a family of schools that believes in putting the children and families within our local communities at the centre of all we do. Our vision is to work together to help every child to develop into high achieving, confident, healthy, caring and resilient members of their family and community; creating a pathway to support their career aspirations, independence and contribution to society.
We value the need to develop positive relationships with every child and every family in order to achieve this vision. We aim to work together to understand and respond to individual circumstances, regardless of background or early life adversities, and to offer the appropriate care during challenges along the way.

Our Strategic Framework
Our new framework has been designed to guarantee that the needs of the whole child are met and that our schools offer every child the best possible support throughout their learning journey. At the core of our values is our own, unique definition of success:
"Children are in school, participating and enjoying their learning and feeling safe; with a sense of belonging and with aspirations towards a future path. Our children are resilient, articulate and, by the time they leave us, they are learners for life."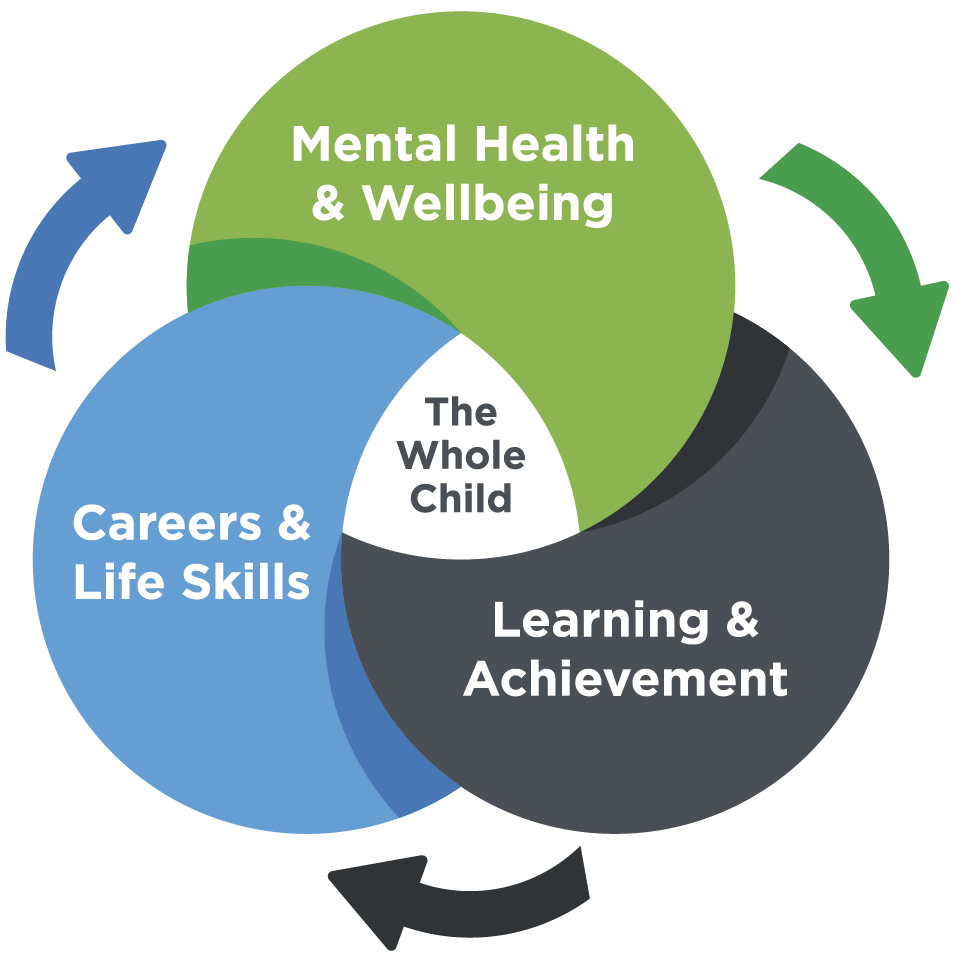 Mental Health & Wellbeing
Mental health and wellbeing is at the foundation of all that we do. Prioritising mental health and wellbeing lays the foundations for future relationships, better health, positive engagement and successful learning.
Click here for more information on our unique approach to mental health.
Learning & Achievement
We maintain high expectations of our children and we aim for every child to make excellent progress at every stage. A stronger foundation of mental health and wellbeing will enable more children who are less academically driven to engage with their learning and to achieve their potential in school and beyond.
Careers & Life Skills
By giving each child a clear career trajectory, supported by our strategic partners, we lift their aspirations, give them a sense of belonging and help them to become learners for life. They gain a better understanding of the purpose of education and develop into high achieving individuals who are able to better support and contribute to the mental health and wellbeing of their own children or other young people in the future.
Our School Curriculum
At Wells-next-the-Sea Primary & Nursery School, we believe that learning should be enjoyable and we aim to provide a text rich, enquiry-based curriculum which incorporates the National Curriculum, but also takes into consideration the varying needs of every learner in our inclusive school. We have a strong emphasis on values and British values in our school, which are woven throughout the curriculum, and we focus on a specific value each half-term.
We strive to develop and weave together, the children's knowledge, practical and thinking skills, with an understanding of how they can become independent learners. Our curriculum is planned in a sequenced, coherent manner, so that children are continually learning more and remembering more.
Within our curriculum, we encourage the children to have an ownership of and connections with, their own rural and coastal environment, its history and its creative community. Our 'Discovery & Learning' units of work reflect this, for example, our older children learning about their locality and the salt marshes, or some of our younger children, learning about the Queen and her home in Sandringham. This enables more cross-curricular work and ensures that there are more creative and meaningful learning experiences for our children. Educational visits and visitors further enrich the children's learning opportunities.
We very much value our partnerships with parents, our community and the wider links with the county. We continue to develop strong links that the school has with the local community. Work Week, Science Week and projects involving the Maltings Heritage Centre are regular additions to our school calendar, which serve to enhance our children's experiences.

---

Please click on the subjects below to view the corresponding curriculum maps