Our Curriculum
Our Trust's Vision and Strategic Framework

For Children, Families and Communities
The Wensum Trust is a family of schools that believes in putting the children and families within our local communities at the centre of all we do. Our vision is to work together to help every child to develop into high achieving, confident, healthy, caring and resilient members of their family and community; creating a pathway to support their career aspirations, independence and contribution to society.
We value the need to develop positive relationships with every child and every family in order to achieve this vision. We aim to work together to understand and respond to individual circumstances, regardless of background or early life adversities, and to offer the appropriate care during challenges along the way.

Our Strategic Framework
Our new framework has been designed to guarantee that the needs of the whole child are met and that our schools offer every child the best possible support throughout their learning journey. At the core of our values is our own, unique definition of success:
"Children are in school, participating and enjoying their learning and feeling safe; with a sense of belonging and with aspirations towards a future path. Our children are resilient, articulate and, by the time they leave us, they are learners for life."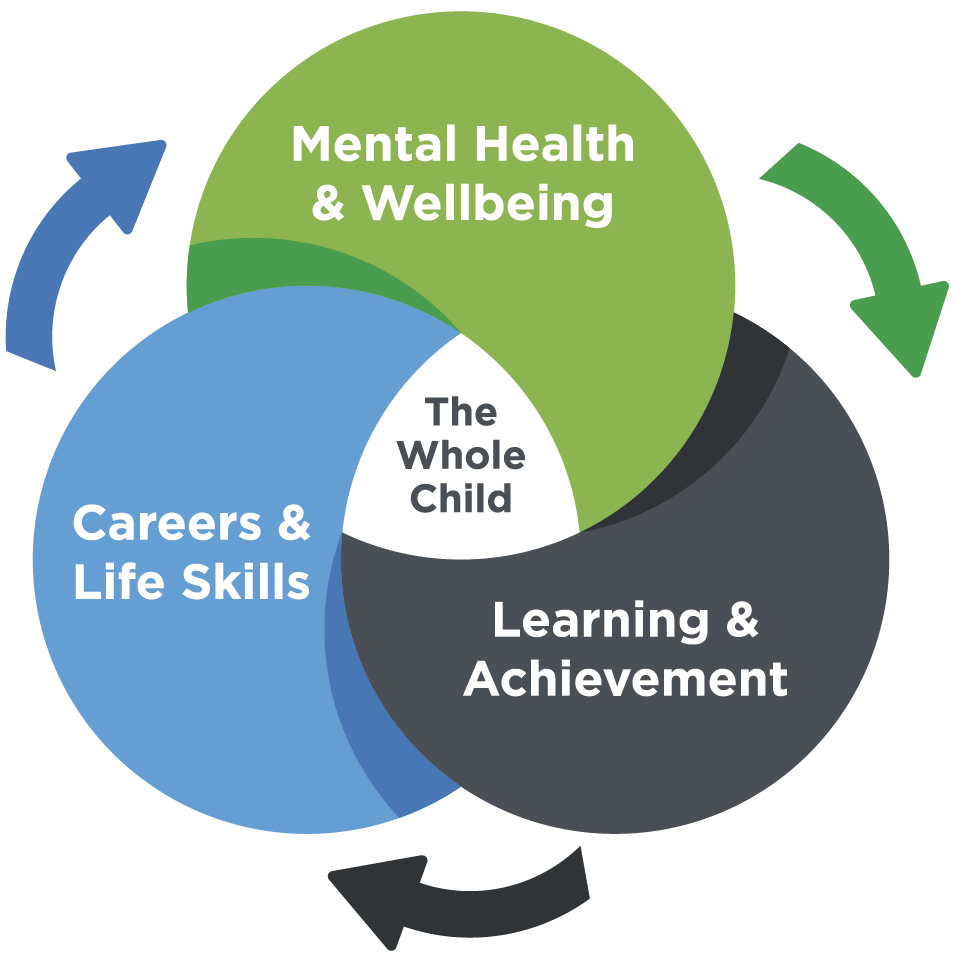 Mental Health & Wellbeing
Mental health and wellbeing is at the foundation of all that we do. Prioritising mental health and wellbeing lays the foundations for future relationships, better health, positive engagement and successful learning.
Click here for more information on our unique approach to mental health.
Learning & Achievement
We maintain high expectations of our children and we aim for every child to make excellent progress at every stage. A stronger foundation of mental health and wellbeing will enable more children who are less academically driven to engage with their learning and to achieve their potential in school and beyond.
Careers & Life Skills
By giving each child a clear career trajectory, supported by our strategic partners, we lift their aspirations, give them a sense of belonging and help them to become learners for life. They gain a better understanding of the purpose of education and develop into high achieving individuals who are able to better support and contribute to the mental health and wellbeing of their own children or other young people in the future.
Our School Curriculum
At Garrick Green Infant School we follow the Early Years Foundation Stage Curriculum during the Reception year and the National Curriculum in Years 1 and 2. We pride ourselves on a broad, balanced and stimulating curriculum and we aim to deliver it in a creative and practical way so that our children develop a love of learning. Although our programme of learning follows the National Curriculum, it is by no means limited by it. We extend the curriculum with set weeks throughout the year, which are dedicated to different subjects - For example, Science week, Sports Week, Art Week and International Weeks each term.
In Key Stage 1 English and Maths are taught daily and in addition to this, we do cross curricular topics each term which incorporate as many subject areas as possible. Topic work is investigative and practical and designed to ensure that children build on their skills from the previous year.
In Reception we follow a planning in the moment approach. For the majority of the day the children are free to follow their own interests through play both in the classrooms and outside. We have a well equipped environment which allows the children to get involved in whatever interests them. We do individualised or small group teaching by joining in their play and moving their learning on. The adults observe the children and when they see anything that they can add to or extend (a teachable moment) they will do the teaching there and then. This can be in the form of communicating, modelling language, showing, explaining, demonstrating, exploring ideas, encouraging, questioning, recalling, providing a narrative for what they are doing, facilitating or setting a challenge. There are also short whole class carpet sessions for PSED, phonics, writing, and maths throughout the week.
The EYFS and National Curriculum are summarised in our prospectus, or alternatively, can be viewed by following the links below:
To get a week by week overview of what is happening in each year group, read our class blogs.
For any further information about our school curriculum, please contact the Headteacher via the school office.