Reading
At Garrick Green we have been working towards creating a culture of 'reading for pleasure'. We have a beautiful newly designed library, there are reading areas in all classrooms and we have invested lots of money in new 'sharing books' and have set up a 'Book Swap Shed'.
We have purchased a range of new books from a variety of reading schemes and have organised them into the coloured book bands in our library. Each book band has a range of books within it. Some may like to stick to one particular scheme e.g. Songbirds, whereas others may decide to choose different types of books each time they read. Children will not necessarily read every single book in their book band. They will move to the next band when their teacher thinks they are ready.
Once your child is confident reading books in the orange book band they will move onto becoming a 'free reader'. Children will then be able to choose from the 'free reading' area of the library within their assigned book band. The books in these bands will be made up of a good variety of both fiction and non-fiction books, including some scheme books.
All children will be able to choose their own colour banded books and sharing books.
We base our phonics teaching on the Batty Basics scheme.
Reading Progression at Garrick Green Infant School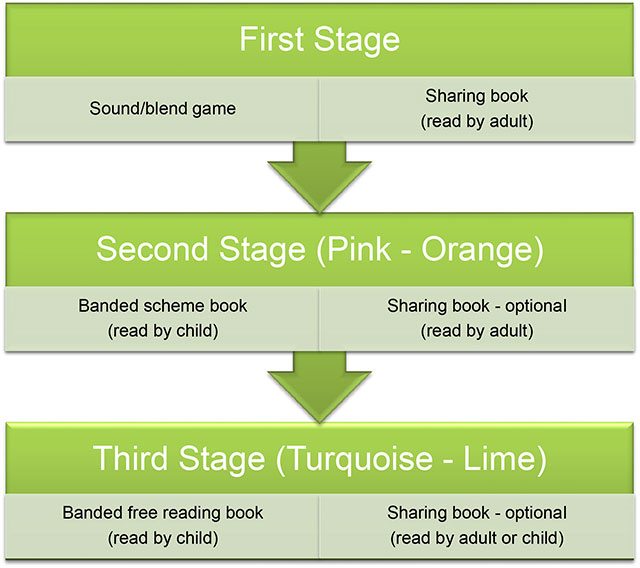 Our School Library
All children will be able to choose any book within their assigned colour band and will progress through the levels listed below. The scheme books, from pink through to orange, will be mostly phonetic and will be available in a range of fiction and non-fiction. Following on from this they will be 'free readers'. The children will then progress through banded books from turquoise to lime, which will be a mixture of carefully selected fiction and non-fiction books, including some scheme books.