Friday 4th March - U12 County Cup Netball Competition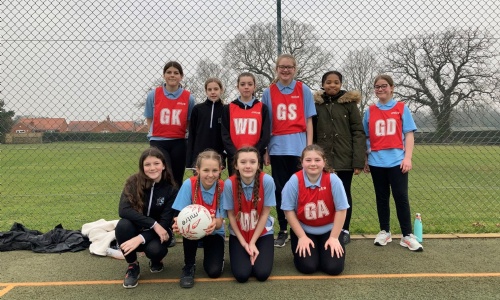 On Friday, the Year 7 Netball team travelled to Gresham's School in Holt for the County Cup Netball tournament.
First up, Reepham High School; a very even match which saw us win 4-2 thanks to some brilliant shooting from Amy. Next up was a very tough match against Wymondham College and despite the girls' best efforts to stop them keeping possession of the ball, we lost 7-0. Next up, Springwood High School for another very evenly matched game which saw Hellesdon scrape a 4-3 win. Our final game in the group stages was against Notre Dame and despite winning against them earlier in the season, Notre Dame proved very tough opposition and beat us 7-1. Unfortunately, two wins and two losses was not enough to see us into the next stage of the tournament but the girls showed a fantastic team effort and represented Hellesdon High School extremely positively. They should be very proud of themselves!