Curriculum
Our Trust's Vision and Strategic Framework

For Children, Families and Communities
The Wensum Trust is a family of schools that believes in putting the children and families within our local communities at the centre of all we do. Our vision is to work together to help every child to develop into high achieving, confident, healthy, caring and resilient members of their family and community; creating a pathway to support their career aspirations, independence and contribution to society.
We value the need to develop positive relationships with every child and every family in order to achieve this vision. We aim to work together to understand and respond to individual circumstances, regardless of background or early life adversities, and to offer the appropriate care during challenges along the way.

Our Strategic Framework
Our new framework has been designed to guarantee that the needs of the whole child are met and that our schools offer every child the best possible support throughout their learning journey. At the core of our values is our own, unique definition of success:
"Children are in school, participating and enjoying their learning and feeling safe; with a sense of belonging and with aspirations towards a future path. Our children are resilient, articulate and, by the time they leave us, they are learners for life."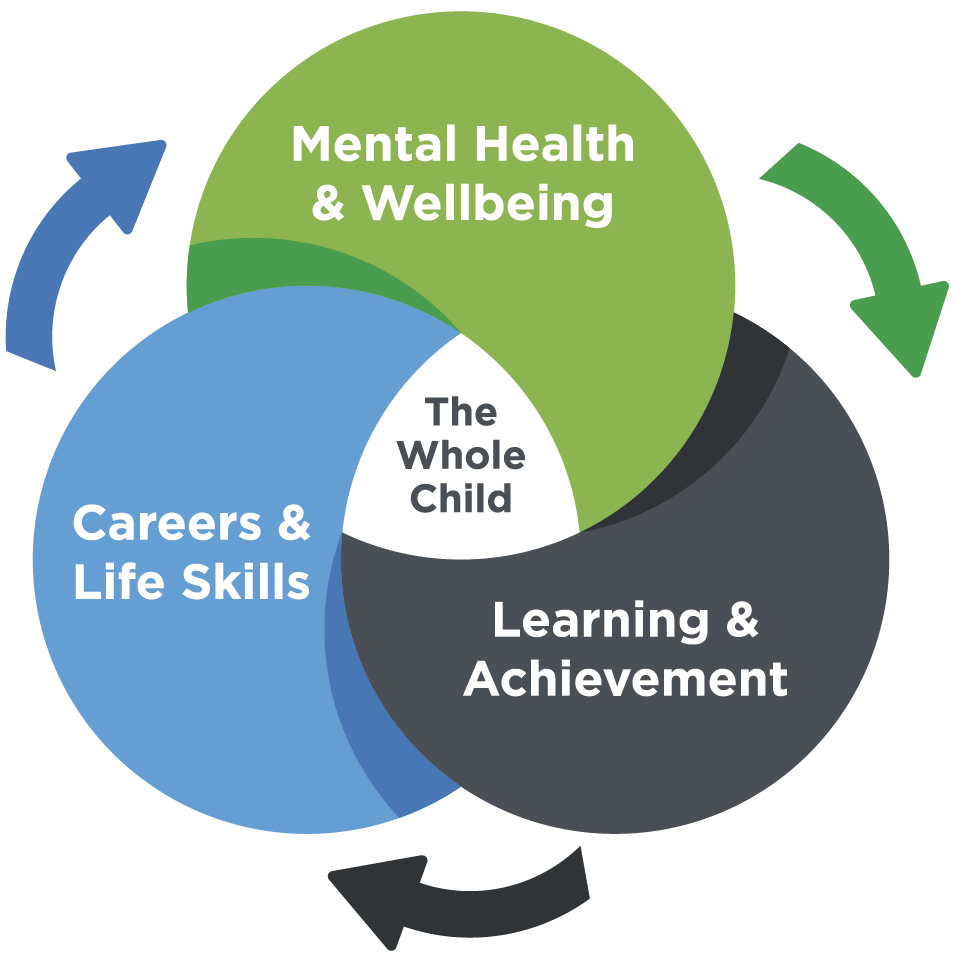 Mental Health & Wellbeing
Mental health and wellbeing is at the foundation of all that we do. Prioritising mental health and wellbeing lays the foundations for future relationships, better health, positive engagement and successful learning.
Click here for more information on our unique approach to mental health.
Learning & Achievement
We maintain high expectations of our children and we aim for every child to make excellent progress at every stage. A stronger foundation of mental health and wellbeing will enable more children who are less academically driven to engage with their learning and to achieve their potential in school and beyond.
Careers & Life Skills
By giving each child a clear career trajectory, supported by our strategic partners, we lift their aspirations, give them a sense of belonging and help them to become learners for life. They gain a better understanding of the purpose of education and develop into high achieving individuals who are able to better support and contribute to the mental health and wellbeing of their own children or other young people in the future.
---
Our School Curriculum
Teaching and Learning: the heart of our school
At Hellesdon High School and Sixth Form, our core principle is to offer a quality education to every student. We believe that a quality education is one rich in knowledge, coherent in sequence and based on a broad and balanced range of subjects. Our subject leaders are curriculum experts, and they actively work to provide each student a meaningful journey through their subject. This helps all of our students to enjoy, achieve and succeed in their learning, both now and in the future.
We are equally ambitious for learning in all subjects, and for all students. In lessons, we understand that students learn best when they are taught new ideas and new vocabulary explicitly, and are then given opportunities to practice. We spend time making sure that our students don't just know the content and key vocabulary of the curriculum, but can also remember it later and apply it to new situations and contexts.
We assess each student's knowledge at key points to help us understand what they can remember, and what they need to learn next. This assessment takes a variety of forms: from a quick quiz in class or a teacher observation, through to a practical demonstration or formal exam.
At Hellesdon High School and Sixth Form, we take every opportunity to support our students in their social and emotional development. Our aim is for every student to develop positive personal and social values during their time with us, preparing them well for their future as responsible and active citizens. The personal and social values we prioritise are ambition, resilience, kindness, honesty and integrity.
Curriculum Design
In Years 7, 8 and 9, students study a broad and balanced 3-year common curriculum of Art, Computing, Drama, Design & Technology, English, Geography, History, Maths, Music, PE, PSHRE, Science and MFL (French or Spanish).
In Years 10 and 11, students study a 2-year common curriculum of English, Maths, Science, PE and PSHRE. Four additional subjects are chosen through the options process in Year 9. All students also study at least one Humanity subject (Geography and / or History). Approximately 50% of Year 10 and 11 students are directed to study a modern foreign language (either French or Spanish) as part of the English Baccalaureate. All students are given the option to continue studying a modern foreign language, even if they are not directed to do so.
In Year 12, students are able to select from a wide range of subjects. The option choices (including both A-Levels and vocational courses) are designed to give our students the best possible continuity and progression towards either higher education, apprenticeships or their chosen career. GCSE resit courses in English and Maths are also offered for students who have not yet gained a minimum grade 4 in these core subjects.
How do we meet the requirements of the 16 – 19 study programme?
Hellesdon High School & Sixth Form's programme consists of a Level 3 programme. The Level 3 programme is composed mostly of academic qualifications and many students study facilitating subjects. We also offer a number of vocation/applied courses.
Young people who do not hold a GCSE grade 4 in maths and/or English are required to continue these subjects as part of their study programme
All students who do not hold a grade 4 in maths and/or English are required to undertake compulsory lessons in these subjects. These are timetabled on their individual programme of Study
All study programmes should include work experience and non-qualification activities which complement the other elements of the programme and support the student to progress to further or higher education or to employment. The non-qualification activity should develop students' character, skills, attitudes and confidence.
Students in our Sixth Form are expected to take part in a number of activities which provide them with opportunity to develop a range of "soft skills".
Tutor/ Mentor time is used effectively to discuss a range of important issues and develop key skills;
Every student in Year 12 takes part in the National Citizenship Programme (NCS)
A full, weekly Conference programme is planned with guest speakers from universities charities and local/national industry.
All students receive careers and future planning support including a bespoke UCAS/university preparation and support with Apprenticeship applications.