HHS House Competitions (Autumn Term)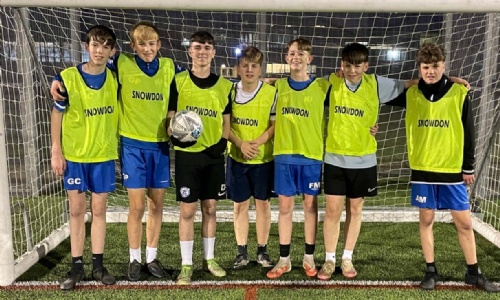 This half term marked the beginning of a new programme of house competitions, running across the year with all results counting towards the Sports Cup.
Please click on the items below to view more information on each of our competitions...
LUNCHTIME COMPETITION: Basketball Free Throws
The lunchtime competition for this half term was basketball free throws, with students having 5 attempts each to see how many baskets they could score. Over 300 baskets were scored across all year groups, with winners in each group as follows:
Year 7: Everest
Year 8: Everest
Year 9: Nevis
Year 10: Snowdon
Year 11: Everest
Once all points were added together, the overall winners were EVEREST with 94 points who finished ahead of Snowdon (66 points) in second place and Fuji (58 points) in third.
Next half term the lunchtime competition is 'HHS Superstars' (a series of short fitness-based challenges).
IN LESSON COMPETITION: Cross Country
During November, all students in Y7-11 competed in cross country races during their PE lessons. Year 7 students ran two laps of the field, Years 8 and 9 ran 2½ laps and Years 10 and 11 completed 3 laps. Lots of students took the opportunity to wear an item of clothing in their house colours whilst competing. Everyone who finished scored a point for their house with the top 50 runners in each year group scoring additional points towards their house total.
The individual top three runners in each year group were as follows:
Year
Gender
1st
2nd
3rd
7
Boys
Douglas C
Emilis G
Matthew S
7
Girls
Maisie Y
Zoe B
Talia M
8
Boys
Kiefer M
Malachi B
Jack B
8
Girls
Chloe M
Demi N
Adrianna N
9
Boys
Ashton D
Ben E
Matthew L
9
Girls
Megan B
Olesya
Ayva S
10
Boys
Ronnie B
Gabe D
Max P
10
Girls
Amelia J / Keira L / Florence W / Geiste T (joint 1st)
11
Boys
Reggy K
Shumay T
Alfie M
11
Girls
Ava O
Matilda M
Eliza I
As for the year group winners, Nevis were the winners in Year 7, Everest won Years 8 and 10, Olympus won Year 9 and Fuji were victorious in Year 11.
The overall winners were FUJI with 2,929 points who finished ahead of Snowdon (2847 points) and Olympus (2813 points) in second and third places respectively.
AFTER-SCHOOL COMPETITION: Girls Netball
The first after-school netball competition was for Years 8 and 9 with Nevis/Fuji ('Nevuji') and Olympus/Snowdon ('Snowlympus') forming combined teams due to not having enough players. Mrs Ruthen and Miss Matthews also joined in which added an extra competitive edge to the games. Despite being the only house with a full team, Everest were unable to make it into the final as 'Nevuji' claimed the win ahead of 'Snowlympus' who finished as runners up.
The Year 7 competition the following week saw teams from Fuji, Nevis, Olympus and a combined team of Everest and Snowdon ('Sneverest') compete against one another. Throughout the tournament, Olympus proved the team to beat and it was they who triumphed over 'Sneverest' in the final. All teams though showed great teamwork which will hopefully encourage the girls to continue playing netball and representing the school in the future.
Unfortunately, there were insufficient players for the Y10/11 competition. This therefore left OLYMPUS as the overall winners with Nevis finishing runners up and Everest in third.
Next half term's after-school competition for girls is Football.
AFTER-SCHOOL COMPETITION: Boys Football
The first boys football competition of the year saw Fuji victorious in the Year 8 tournament as they beat Snowdon 3-2 in a dramatic final. Fuji were seemingly coasting to a 3-0 victory with just 2 minutes to go when Snowdon suddenly struck back with two late goals. Despite a goalmouth scramble in the dying seconds Fuji held on for the win. Jack B and Kobby T proved the star players for Fuji in the final.
Next was the turn of Year 7. Everest qualified for the final courtesy of a last-minute Snowdon goal in the group stage knocking out Nevis. Olympus had gone the whole group stage undefeated and were favourites to win the final but were soon up against it with two goals from Charlie W putting Everest 2-0 up. Olympus struck back late on but there was not enough time to force an equaliser and Everest held on to be crowned the winners, sparking a mass pitch invasion from all the other teams.
In the best-attended competition of them all, the Year 9 Olympus team pipped Nevis in a dramatic penalty shoot-out. Both teams had earlier topped their groups and then breezed through their semi-finals to meet in the final showdown. After a tense game which finished 1-1, the game went to penalties. Both sides missed chances to win before Alfie N stepped up and powerfully fired home to win the tournament for his team.
The final boys football tournament saw only three houses field a team in the Year 10/11 competition with Nevis and Olympus unable to get a side together. In the round robin format, Snowdon seemed the team to beat winning two games and drawing the other two. Fuji improved as the tournament went on and qualified in runners up position for the final. An untimely injury to key player Charlie P in the last group game left Snowdon vulnerable in the final and Fuji found themselves 1-0 up at half time. However, an unbelievable second half goal blitz saw Snowdon turn things around in the space of 30 seconds with three quickfire goals. A further two goals sealed the win for Snowdon which on the balance of the whole tournament was well-deserved.
The overall winners when each year groups points tallies were added up were SNOWDON. Fuji and Everest finished in second and third place respectively. Across all 5 year groups, a total of nearly 150 boys took part which was a great effort all round.
Next half term's after-school competition for boys is Basketball.