Y11 Boys Football v. Langley – County Cup Round 1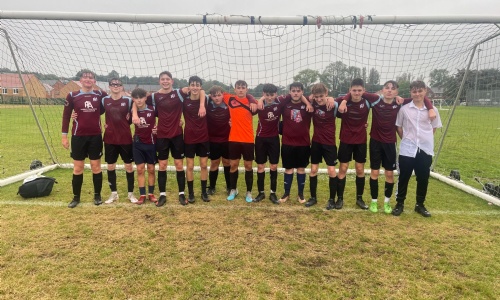 On 2nd October the Y11 boys football team put in a fantastic performance to reach the second round of the County Cup after beating last year's winners, Langley, in a pulsating contest.
After a fairly even start, Hellesdon took the lead through a fine finish from Ashton D. Langley then grew into the game more and more, putting Hellesdon under pressure for the majority of the first half. They eventually got their equaliser to leave the score 1-1 at the midway point.
The pattern of play continued in the second half with Hellesdon having to soak up large spells of Langley pressure. However, Hellesdon defence remained organised and going forward were always a threat on the counter-attack. First Matty L and then Milan A were rewarded for the persistence up front as they both found the back of the net to put Hellesdon 3-1 ahead. Langley once again pegged them back to level the scores at 3-3. In amongst all of this, Tom M pulled off an incredible double save from a Langley penalty, with the save from the rebound in particular being an early contended for 'save of the season'.
Despite Langley having the momentum now, Hellesdon showed great resilience to go ahead again, this time through an inventive effort from Josh P. Milan A then added his second of the game to give Hellesdon a two goal cushion at 5-3 but Langley set up a nervy finish converting from the penalty spot with a couple of minutes to go. Hellesdon though managed to hold firm to secure a memorable 5-4 victory.
In all their games for the school, this win was probably the team's most impressive given the standard of opposition, as well as having to show great resilience with several key players unavailable due to injury.
Player of the match: Oli A