Y9 Boys Football v. Lynn Grove – County Cup Round 1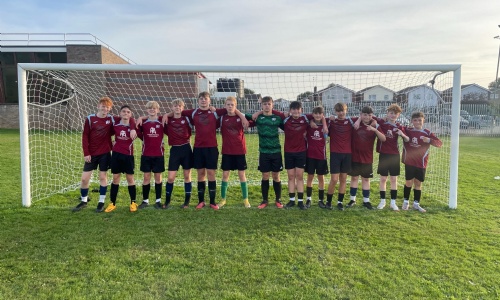 On Monday 9th October, the Y9 boys football team made the long trip to Lynn Grove Academy for the first round of the National Cup.
From the first whistle, the boys looked to play positively, getting the ball down and keeping possession well. It was therefore no surprise when Freddie P gave Hellesdon a deserved early lead. Shortly after, Hellesdon won a penalty which the Lynn Grove goalkeeper made a good save from. However, Hellesdon were not deterred as Harrison M and Archie W added further goals to give them control of the game at half time with a 3-0 scoreline.
The second half continued with Hellesdon on the front foot and the boys seem determined to score as many goals as they could. Freddie P, Harrison M and an emphatic strike from Archie W doubled their individual goal tallies and also the teams. Cody E added a seventh before Freddie P completed his hat-trick with around 15 minutes left. There was still time for Noah S, Zaki M and Cam B to add their names to the scoresheet (and another missed Hellesdon penalty!) with the final score ending up 11-0 to Hellesdon.
It was an all-round superb performance from the boys and they can now look forward to the next round against Benjamin Britten High School.
Player of the match: Adam B