Congratulations Wensum English Hub Graduates!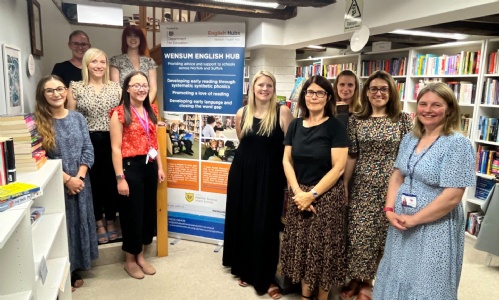 Schools are already seeing positive results as they graduate from the Wensum English Hub programme.
One of the first groups of schools to take part in the Wensum English Hub programme has graduated.
Representatives of 17 primary and infant schools across Norfolk attended a special event at Bookbugs and Dragon Tales in Norwich on Friday 8 July to receive their certificates.
The Wensum English Hub is based at Heather Avenue Infant School and is one of 34 English Hubs nationwide. Funded by the Department For Education, it supports other schools across Norfolk, Suffolk and Essex to achieve excellence in teaching reading and early language development.
Once enrolled in the programme, the schools receive intensive dedicated support from a Literacy Specialist to help develop a single Systematic Synthetic Phonics programme, access to training and up to £6,000 of funding for training and resources.
Since signing up to the programme, the 17 graduating schools have all seen significant improvements in their literacy data with some schools improving by up to 40 per cent.
Laura Anderson, the Wensum English Hub lead, said: "It's been a pleasure to work with these schools and to help their reading teachers develop in confidence and knowledge. These schools have worked with us since joining in September 2019 and have kept going despite the challenges we've faced with the pandemic.
"We've been really fortunate to have been able to offer CPD training sessions with authors Alex Quigley, Micahel Rosen, Christopher Such, and early reading and phonics expert ,Emma Spires, which is incredible.
"These schools have made exceptional progress and are in a strong position going forward in their teaching of phonics and early language."
One of the schools graduating from the programme is Edward Worlledge Ormiston Academy in Great Yarmouth. Its reading lead, Danielle Grant, said: "The Wensum English Hub programme has been fantastic. I was new to the reading lead role when I joined the programme and it's given me the confidence to reach our expected standards in our school.
"The funding has been invaluable and it's allowed us to buy the resources we need to be able to provide our children with a good start to their education.
"Working with the English Hub has definitely been a way forward for us. We now have a structured phonics programme across our school, consistency across our teaching, and we are seeing positive improvements in the children's reading and writing."
You can find out more information on the Wensum English Hub here