New NCS Autumn Programme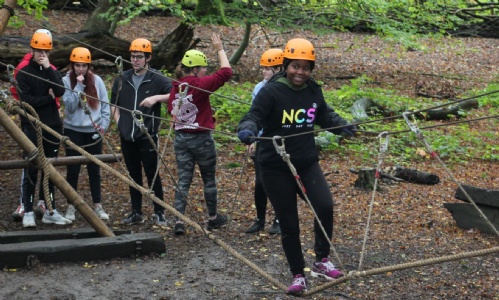 Sixth Form students have had the privelage of participating in a new NCS Autumn Programme this year.
This October our Year 12 students participated in the National Citizen Service's Autumn Programme, which is organised and delivered by Norwich City Community Sports Foundation.
The programme, which is government funded, provides young people with the opportunity to take part in residential camps and extra-curricular experiences that aim to engage and empower students outside of the classroom by building confidence and social cohesion.
Although Hellesdon High have teamed up with NCS for summer camps in the past, this is our first cohort to participate in the NCS Autumn Programme. With just over 90 students involved, we were the biggest school group that signed up for the 3-day residential trip to Danbury this year.
The 'Outdoor Essex' activity centre located in Danbury offered students a wide variety of activities such as mountain biking, artificial caving and wall-climbing amongst other problem-solving activities. For many, this was an opportunity to challenge themselves in new ways and to overcome fears with the support of their peers.
"Things get easier if you just throw yourself into it. I am scared of heights and enclosed spaces, so what did we do? We did climbing and caving! Don't judge your abilities before you've given something a fair try".

- steve gibbons, Year 12
"The main thing that I've taken from this experience is that you've just got to get stuck in. Don't let anything put you down, just go for it and see how it goes. If it goes badly, then it goes badly, but if you don't go for it... you'll never know".

- spencer bolton, year 12
Back in school, there were a number of talks held that taught students awareness of the roles different organisations play in society: The British Legion talked to us about Remembrance and the poppy appeal; the Police spoke to us about County Lines; and we had The British Red Cross deliver a first aid course to students in the main hall.
Year 12 student Maisie Nichols said "I really enjoyed the talk given by The British Legion. I didn't know that in order for it to be worn correctly, the green leaf of the poppy had to be at 11 o'clock."
Natalie Roope, who joined the Sixth Form after Year 11 at Hellesdon High said "The problem solving bridge building activities were very teamwork based and we got quite close as a group and with the leaders themselves. I realised that by the end of it, I got on quite well with so many people I'd not really spoken to before". Her classmate Maisie agreed and said "we were put into groups so we got to associate with people who we wouldn't normally talk to. And it was just a good experience in that sort of way. It helps you to communicate better with others and prepares you for networking in the future."
"I think it's been a real success and the students have enjoyed it. It's been really good, particularly for our external students to get to know our current students and to help them transition into A Level. I think the change in confidence levels and in the cohesion of the year group on the whole has been really noticeable." – Mrs Kelleway, Head of Year 12
The next phase of the programme will be a social action project which will take place throughout the remainder of the Autumn term. Students will be working together on a project which will focus on giving something back to their community, with presentations being held in December. We are excited to see the project develop, along with the skill sets of our young learners.
The NCS week has been a fantastic experience for our Year 12 students. The 3 day residential allowed them to really push themselves as individuals and also developed crucial team-working skills. Students who perhaps lacked some confidence when they started Sixth Form have come back with a real 'buzz' about the experience. We will certainly be doing this again with next year's cohort. Overall, a fantastic and unique programme for Hellesdon students".

-richard taylor, director of sixth form