Laying strong foundations for the future at Hellesdon High School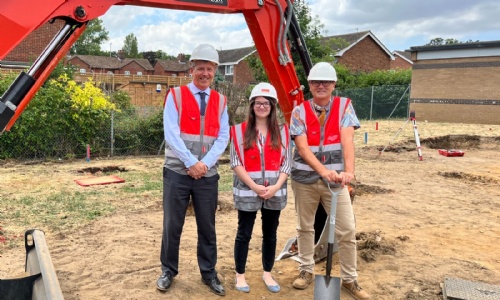 Work has officially started on the expansion of Hellesdon High School and Sixth Form
Work has officially begun on a new classroom block at Hellesdon High School.
CEO of The Wensum Trust, Daniel Thrower, and Principal, Mike Earl, were there to witness the foundations being prepared for the block which will house three new classrooms.
The Wensum Trust has invested £300,000 into the new building which will provide a support hub for students across the school to access help from learning support to emotional and mental health advice.
CEO Daniel Thrower said: "This is an exciting time for Hellesdon High School. This investment will meet the needs of students and families who value a much more holistic approach to education. We get excellent results for children in all of our schools but we do this through focussing on every child's mental health and well-being first"
The new classroom block will open in September and is just one part of some significant changes for the school over the summer months. The Wensum Trust has also invested £278,000 into the refurbishment of Hellesdon Sixth Form, providing an improved learning and social environment for students from September.
Principal Mike Earl said: "Work on the refurbishment has started in the last two weeks and you can already see how much more space the students are going to have to study. The students starting with us in September are going to walk into a really great space to carry on their educational journey with us."
Photographed are Wensum Trust CEO, Daniel Thrower; Anna Parker, Project Manager from Portakabin; and Principal Mike Earl.