PET Students Take Their Next Step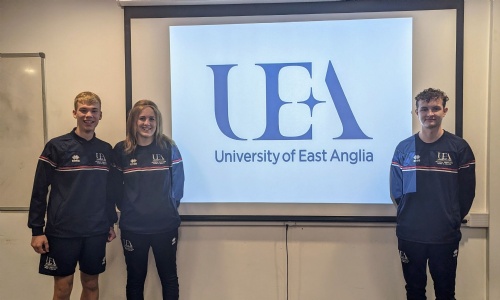 The first students to complete the Physical Education Teaching (PET) Programme at Hellesdon Sixth Form have taken their next step after a successful two years.
Four students took part in the first Physical Education Teaching (PET) Programme, which allows students joining Hellesdon Sixth Form to pursue a career combining education and sport.
Supported by Norwich City Community Sports Foundation, students tailor their own educational package from a range of A-Level and vocational subjects, alongside the coaching qualification. Then, through the programme's partnership with the University of East Anglia (UEA), students who achieve the required entry grades are guaranteed an offer to study their physical education degree at the university.
Three of the students, Lloyd, Nik and Lucie, have now moved on to the UEA to study Physical Education, Sport and Health.
Reflecting on the PET course, Lloyd said: "The PE Teaching course has provided me a great range of experience and transferable skills that are crucial, not just for coaching, but across a variety of career paths. We have had the opportunity to put our skills into practice by delivering sessions to younger years and observing high-level coaches, providing us with a vast scope of experience that prepares us for further education in this field. The course is very practical which helps us apply what we learn and develop in the classroom and translate that into PE delivery."
Meanwhile Oli has joined Anglia Ruskin University to study Sports Science. He said: "The PET course allowed me to improve my communication skills and my confidence in front of unfamiliar crowds. Through the course being connected to the UEA it gave me great insight into what to expect when at university. I would recommend the course to anyone who is even partially interested in coaching as it can open gateways to new opportunities. '