R2-D2 Lands on Planet HHS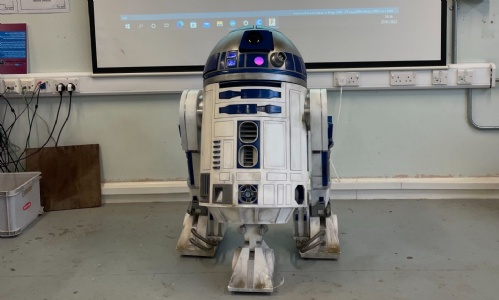 At the start of term, in a galaxy not so far away...
Engineers from IT Solutions visited the Design & Technology Department at Hellesdon High School, to help inspire students interested in Engineering and Computer Science and to show us all the incredible results of one man's interest in programming and 3D printing...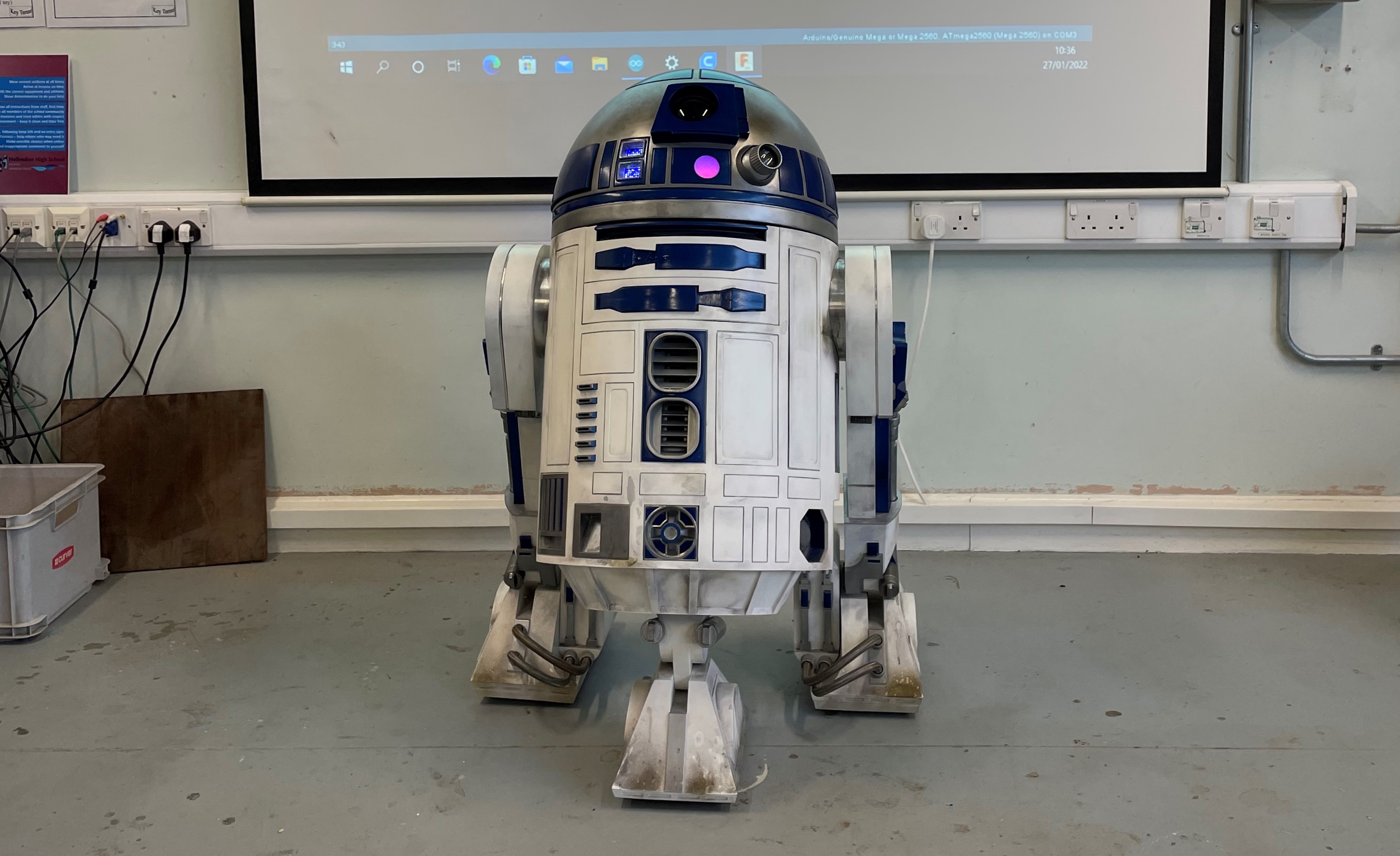 Jason Harris, Installations Department Manager, at Computer Service Centre spent 18 months building a fully operational, life-size model of the Star Wars droid, R2-D2 (or Artoo-Detoo). The first 12 months was dedicated to building the structure of the droid at home, using a 3D printer to produce each individual part out of biodegradable PLA (polylactic acid). The droid is remote-controlled and is designed with a host of features that include movement and functionality in the legs, arms and the top dome, as well as an impressive ability to dance to music.
Watch R2-D2's visit to Hellesdon High
produced by Year 13 Media students, Jumi Ekundayo and Ez Wilde
Jason talked to students about how he became interested in 3D printing, and how he taught himself everything he needed to know in a few years by watching YouTube tutorials online. He also took us through the various, fascinating steps of creating his R2-D2 model, including how he designed the gear systems and what software he used, along with the some of the coding and programming details.
"Some people think that those who work in Computer Science are just sitting behind a desk all day, smashing at a keyboard and eating a bag of crisps. I brought R2 along because it's a fun project to share with young people, but it also involves a lot of tech, thinking and coding. I want to show people that Computer Science can be used for prototyping and modelling, and that it combines a whole range of features that many people don't realise."

- Jason Harris, Creator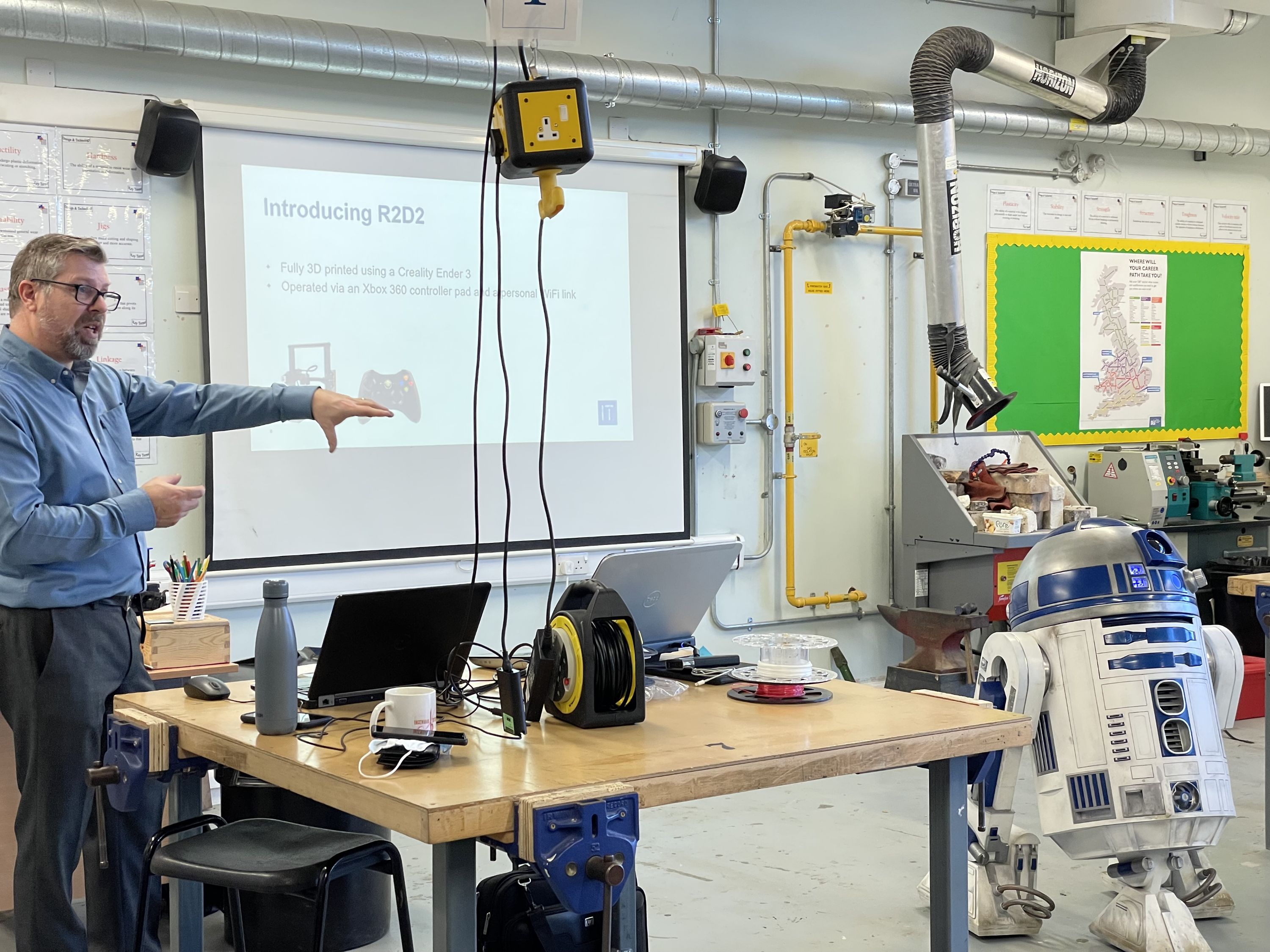 Jason went on to say that "creating 3D models is much more affordable now, people are able to do these things at home. The materials and components are quite cheap and anyone can pick them up. I think it's valuable for young people to have access to this kind of information whilst they are considering their future careers."
His colleague and Cloud Developer, Arron Boyer, also gave us some useful insight into software development, and shared a few top tips for working in the field.
"The visit gave our students a better understanding of what the interesting things that a qualification in Computer Science or Engineering could lead onto. They are studying programming on computers, but it's helpful for them to see what all the theory and principals can translate to, how fun it can be and what their knowledge is worth."

- Sean Brooke, Head of Design & Technology
Hellesdon High School are looking forward to welcoming Jason back to our Design & Technology department in the near future, and to hopefully meeting some of his other Star Wars droids.

---
Related News...
Mr Brooke runs a weekly after-school club for students interested in Computer Science and Engineering, in preparation for HHS' participation in The Greenpower Challenge - A nationwide competition where students design, build and race their own electric car, against other schools. Keep an eye out for more news on this.
We will be sharing news on the competition in the Summer Term.