Trust staff lend expertise to new book supporting children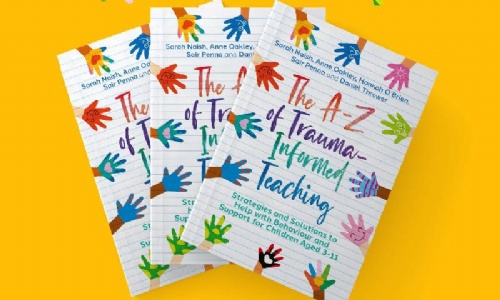 Two members of staff from The Wensum Trust have lent their expertise to a new book, which has been published today.
The Trust's CEO, Daniel Thrower, and its lead for Attachment and Trauma, Anne Oakley, were approached during lockdown by Sarah Naish, Chief Executive Officer and founder of the Centre of Excellence in Child Trauma, to co-write The A-Z of Trauma Informed Teaching, Strategies and Solutions to Help with Behaviour and Support for Children Aged 3-11.
Sarah, who is also a member of the Wensum Trust, has based the book on the original format of her best-selling A-Z of Therapeutic Parenting.
The A-Z of Trauma Informed Teaching, which was written in Anne and Daniel's own time, over the last 18 months, also has contributions from Hannah O'Brien and Sair Penna. Both Hannah and Sair also have wide-ranging experience supporting children who have experienced trauma and attachment difficulties or the parents and carers of these children.
Anne Oakley said the book is aimed is for staff working in educational settings: "This is the book we wished we could have laid our hands on during our lunch hour. It has not been designed to deliver reams of theory but it is written from an authentic, first-hand experience. We want this book to be something all teaching staff can reach for in times of stress and much needed inspiration – or come back to in more detail when time allows."
Part one of the book provides an overview of common behaviours and underlying factors in children who have experienced developmental trauma, whilst part two contains an A-Z list of frequent challenges and suggestions for related strategies.
CEO of The Wensum Trust, Daniel Thrower, said: "We aim to be a trauma informed Trust and our relational approach was introduced with this in mind. This book has a much-needed message. It covers a lot of what our staff now know and they may already use many of the strategies advocated in the book. I was delighted that Sarah asked us to co-write the book and I hope it helps shape the future of the educational system."
The book has already had some significant endorsements, including from Professor Peter Fonagy OBE, the CEO of the Anna Freud National Centre and actor Stephen Fry who stated: "This is a remarkable achievement. Like Batman's Utility belt for teachers. So many practical, wise, inspiring, and achievable ideas are packed in here. I can imagine this becoming as indispensable for teachers as Gray's Anatomy is for doctors."