Wensum Trust invests in Sixth Form and learning support at Hellesdon High School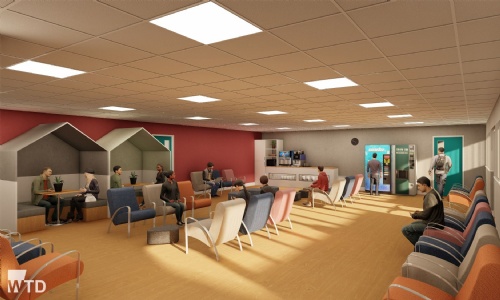 Work is soon to start on the expansion at Hellesdon High School and Sixth Form ready for September 2022
The Wensum Trust is investing £300,000 in Hellesdon High School's sixth form and its learning support provision for all students.
A new block will house three new classrooms and a support hub for students across all the school to access help, from learning support to emotional and mental health advice.
Meanwhile, the sixth form will undergo a refurbishment over the summer providing an improved learning and social environment for students from September.
Principal Mike Earl said: "The growth of the school and sixth form is in direct response to the growing number of students choosing both Hellesdon High and its sixth form for their education. It is very much part of a wider development to expand our current SEND and sixth form provision.
"Our new sixth form will be completely refurbished with an improved social area for students, increased study spaces and additional classrooms."
Daniel Thrower, Chief Executive of The Wensum Trust, said: "The new block forms part of the wider development of Hellesdon High as we are redeveloping the sixth form.
"This investment meets the needs of students and families who value a much more holistic approach to education. We get excellent results for children in all our schools, but we do this through focussing on every child's mental health and wellbeing first. This is pivotal. Built on this we offer high quality of teaching and learning that will pave a destination for each child."
"The sixth form offers smaller class sizes, a more nurturing approach and a hub that students from both the school and the sixth form can turn to for support and reassurance. This is what makes us a unique educational provider, and we know this is what children nd families are looking for."

Daniel Thrower, CEO