Acle Academy receives 'Good' Ofsted rating after transformational journey.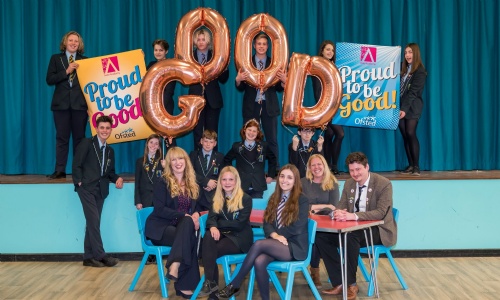 Acle Academy has undergone a remarkable transformation and received a 'Good' Ofsted rating with pupils saying, "the school has changed for the better."
Acle Academy has undergone a remarkable transformation and received a 'Good' Ofsted rating with pupils saying, "the school has changed for the better."
The secondary school for 11–16-year-olds in Acle, Norfolk, joined the multi-academy trust in 2016 to improve standards after being given an inadequate rating in 2015. A 'Requires Improvement' Ofsted rating followed in 2018.
The Department for Education questioned the school remaining open – however The Wensum Trust was selected to oversee the school's transformational journey, including improving its financial situation and pupil attendance.
After creating a new leadership team including appointing Helen Watts as principal, £1.03m was invested by The Wensum Trust to improve the school including:
replacing roofs, heating systems and windows
upgrading electrical work
enhancing ICT - including PCs, laptops, interactive whiteboards, phone systems, visualisers and broadband and network speeds
Investing in Emotion Coaching for all staff.
Teaching and learning were improved by strengthening the capacity of middle leadership and ensuring that a challenging curriculum, reflective of the needs of the Acle learners, was implemented.
These steps have been recognised by parents over the last six years with pupil numbers steadily rising. The school is now over-subscribed for September 2022.
Following their visit on the 23rd and 24th February, Ofsted inspectors determined that pupils agree the school has changed for the better, adding in their report that:
"They value the school's supportive environment. This includes disadvantaged pupils and those with special educational needs and/or disabilities (SEND), who experience particularly effective care."
"Pupils benefit from the high ambition leaders have for their education. Pupils develop rich knowledge because they receive effective teaching."
"Leaders have planned the curriculum well and want all pupils to have the literacy skills they need to succeed in life… Governors are experienced and knowledgeable. The trust and governors monitor leaders' work on the curriculum closely, and this has been effective in improving the quality of education."
"Staff are united with leaders in their drive to improve the school."
Helen Watts, principal at Acle Academy says: "We are delighted that Ofsted has recognised what we have known for some time, that we are a Good school.
"Acle Academy has undergone a significant transformational journey. There were no quick fixes, the journey to 'Good' rested on building strong foundations to ensure the future success of the school. I am proud and honoured to have been part of that journey.
The validation of our hard work means a great deal to the staff who have worked tirelessly to ensure that young people in our care receive the best possible educational provision. We are proud to be part of The Wensum Trust who have supported Acle Academy on its journey and grateful to the support of parents and the local community."
Daniel Thrower, CEO of The Wensum Trust, adds: "I am delighted with this news. After support and significant investment, what Helen Watts and the whole staff team has achieved is transformational - the school has gone from strength to strength.
"Acle Academy reflects the vision of the trust and resonates well with parents and carers who are looking for exactly what our schools are offering. I look forward to the school moving on to greater things."
John Smith, chair of The Wensum Trust adds; "As Acle Academy was one of the first schools to join The Wensum Trust, we are delighted that after significant support, investment and the tireless efforts of Helen Watts and her team, the school is now rightly recognised as a Good school."
Matthew Arrowsmith Brown, chair of governors adds; "I feel privileged to be associated with a wonderful team at Acle Academy. They have worked enormously hard to transform the academy over the last six years. I am thrilled that all their work has been recognised by Ofsted. We now want to continue improving an environment where young people from the locality can flourish and where the sky is the limit.
"I am very proud of all we have achieved together. We will now start our journey to "Outstanding!".
You can find out more about Acle Academy here.