Curriculum
Our Trust's Vision and Strategic Framework

For Children, Families and Communities
The Wensum Trust is a family of schools that believes in putting the children and families within our local communities at the centre of all we do. Our vision is to work together to help every child to develop into high achieving, confident, healthy, caring and resilient members of their family and community; creating a pathway to support their career aspirations, independence and contribution to society.
We value the need to develop positive relationships with every child and every family in order to achieve this vision. We aim to work together to understand and respond to individual circumstances, regardless of background or early life adversities, and to offer the appropriate care during challenges along the way.

Our Strategic Framework
Our new framework has been designed to guarantee that the needs of the whole child are met and that our schools offer every child the best possible support throughout their learning journey. At the core of our values is our own, unique definition of success:
"Children are in school, participating and enjoying their learning and feeling safe; with a sense of belonging and with aspirations towards a future path. Our children are resilient, articulate and, by the time they leave us, they are learners for life."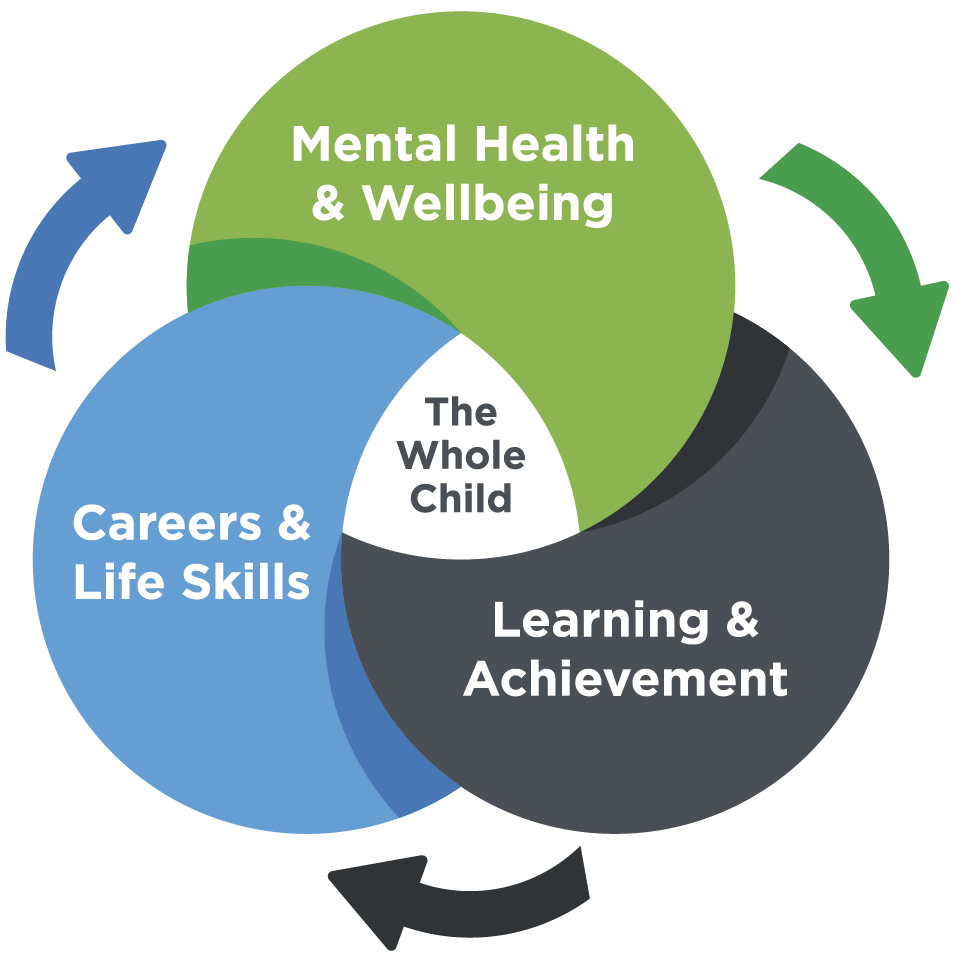 Mental Health & Wellbeing
Mental health and wellbeing is at the foundation of all that we do. Prioritising mental health and wellbeing lays the foundations for future relationships, better health, positive engagement and successful learning.
Click here for more information on our unique approach to mental health.
Learning & Achievement
We maintain high expectations of our children and we aim for every child to make excellent progress at every stage. A stronger foundation of mental health and wellbeing will enable more children who are less academically driven to engage with their learning and to achieve their potential in school and beyond.
Careers & Life Skills
By giving each child a clear career trajectory, supported by our strategic partners, we lift their aspirations, give them a sense of belonging and help them to become learners for life. They gain a better understanding of the purpose of education and develop into high achieving individuals who are able to better support and contribute to the mental health and wellbeing of their own children or other young people in the future.
---

Acle Academy's Curriculum Vision Statement
"Education is the most powerful weapon that you can use to change the world"- Nelson Mandela
At Acle Academy we offer an engaging, broad and balanced curriculum, which prepares students not just for examinations, but for lifelong learning.
The core purpose of our curriculum is to equip our young people for life after school; helping them to build up the mental, emotional, social and strategic resources to enjoy challenge and cope well with the uncertainty and complexity of an ever-changing world.
Our curriculum recognises and values our local cultural heritage but also seizes on opportunities to broaden horizons for the young people in our community. Our curriculum is driven by a moral imperative to develop responsible, ethical and global citizens of the future. We promote opportunities to link knowledge and concepts to real life examples that can be found in the workplace and life beyond the classroom.
At Acle Academy, we understand the students learn best when they can relate new knowledge to existing knowledge. Our curriculum is focused on interconnectivity. We aim to place all learning in context ensuring that students understand the social, cultural, historical or future context of what they are learning and can make links between key concepts, ideas and skills. Transferable skills are developed throughout our curriculum to enable all students to apply their knowledge and understanding in a variety of unfamiliar contexts, strengthening their resilience and developing their curiosity to learn more.
Rationale
Our curriculum content, its sequencing, and delivery, aim to develop students who are knowledge-rich in each subject. We recognise that retrieval and spacing of this knowledge is key.
Each subject will have a clear curriculum rationale for Key Stage 3 and 4, closely aligned to the secondary national curriculum1, progressing knowledge and understanding from Key Stage 22 and grounded in evidence-based practice. This will be; outlined in subjects' curriculum statements, detailed in their curriculum journeys and scheme of learning overviews3 and reflected in their assessment methods.
Assessment methods will vary across subjects, but will be richly used and have a clear rationale and purpose. Strategies will range from low-stakes knowledge tests to more formal summative assessments. Feedback from assessments will support students' learning and prepare them for success in their final examinations.
Literacy conventions will be embedded within subject specialisms, where a uniform approach to the introduction of explicitly identified tier 2 and tier 3 vocabulary4 will be evident. To further stretch and challenge our students a 'scholarly reading list' of texts, articles and journals is provided with each scheme of learning overview. These will enrich and contextualise units of study and provide opportunities for independent learning. Home learning opportunities will complement units of study, supporting knowledge and understanding and helping to foster independence.
Timeline for subjects Schemes of Learning as follows:
Year 7: Autumn 2019, Year 8: Autumn 2020, Year 9: Autumn 2021
Tier 2 vocabulary are high frequency words used in mature language and written texts. Tier 3 vocabulary is subject specific academic language.
---
Key Stage 3 Curriculum - studied in Years 7, 8 & 9
Core Subjects:
English
Mathematics
Science
Foundation Subjects
Art & Design
Computing
Design & Technology
Drama
Character and Culture (including PSHE & RE)
French
Geography
German
History
Music
Physical Education
Key Stage 4 Curriculum - studied in Years 10 & 11
Core Subjects
English Language
English Literature
Mathematics
Science: Core & Additional or Combined
Character and Culture (including PSHE & RE)
Physical Education
Option Subjects
Business Studies
Hospitality and Catering
Drama
French
Further Additional Science
Geography
German
History
Music
Physical Education (GCSE)
We are proud of the pastoral support offered to our students through the excellent work of our Engage Team and our SEND support team. The school offers a range of academic and pastoral interventions to support those students who have additional needs.
Sex and Relationship Education is taught at Acle Academy as part of the Character and Culture curriculum. We also offer Careers Education through our KS4 Character and Culture curriculum that ensures students are fully prepared for the next steps in their education.

---
Within the links below you will find a statement from the lead of each of our subjects, including curriculum maps of the content to expect.
For any additional information regarding our curriculum, please contact Mr Newstead, Vice Principal, at snewstead@acle.norfolk.sch.uk