Sailing Residential Trip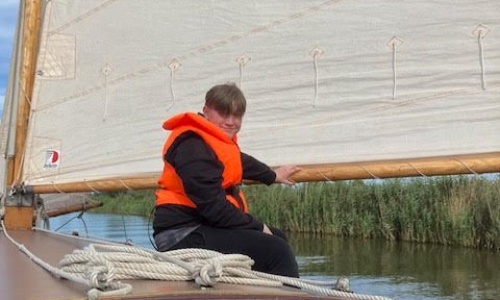 Miss Jarvis recently had the pleasure of taking a group of five Year 9 boys (all RYA 1 qualified) on a sailing residential trip with Hunter's Yard at Ludham, courtesy of the Ranworth Trust.
Unfortunately, the weather was not terribly kind, but nevertheless, the boys spent three days learning how to manoeuvre a 40ft motor cruiser, each spending time helming, learning to moor as well as negotiating other river craft! They spent two nights onboard their sailing cruisers, which proved to be a fantastic bonding process, as well as learning how to rig them, prepare the boat for sleeping on and again for sailing, as well as using the handling skills they possess to sail down the river Thurne with virtually no input from instructors, which was fantastic to witness.
The last day was beautiful - sunshine and a light wind enabled the boys to have a leisurely sail which brought all of their old and new skills together. Much fun was had, and we are so proud of how you all conducted yourselves, but more so about how you pulled together as a team, albeit making a right motley crew!
With grateful thanks to The Ranworth Trust, Hunter's Yard and Ms. John for making this possible.
For more photos, please follow this link to the gallery;
https://www.wensumtrust.org.uk/acleacademy/about-us/our-gallery/sailing-residential-trip-september-2023