National competition success for 3 APHS students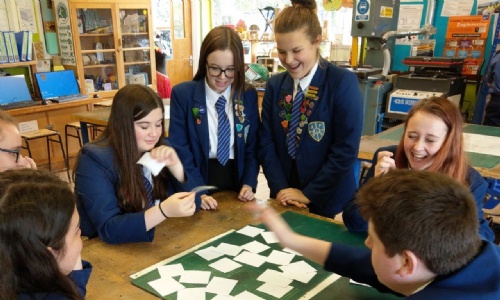 Three of our Design and Technology students are celebrating success in two recent national STEM competitions.
Two Design and Technology Year 10 students have been revealed as the runners up in the national Pupil Design Awards 2020 run by the Royal Society for the encouragement of Arts, Manufacture and Commerce (RSA). Grace Steele and Chloe Futter teamed up to take on the extra-curricular design competition for secondary school and sixth-form pupils which challenges young people to use their creativity and imagination to tackle real challenges facing people and the planet. The 14 and 15 year-olds, who are the first students from Alderman Peel High School to enter the competition, chose to tackle the 'Positive Connections' brief which asked students to create ways to support young people to use technology responsibly and in a way which develops positive relationships. The duo developed a game called 'Believe in Yourself' which focused on supporting mental health by creating easy ways for teenagers to talk to others without feeling anxious. Their idea was selected to go through to the national finals and Grace and Chloe were asked to take part in an online video call to pitch their entry to the industry expert judges. Having said they had been blown away by the 'confidence, research and maturity' of the entry, the judges picked Grace and Chloe as the national runners up in their age group category.

Amanda Moffat, Design and Technology Teacher, said: "We would like to congratulate Grace and Chloe on their commitment and passion in designing a great product aimed at promoting a positive mind-set and to try and improve teenage mental health. This achievement is even more impressive by the fact that due to lockdown the initial RSA workshop was moved online, they then needed to work together remotely to complete the project and for the final stage they were asked to pitch their ideas to the judges via a video call."
"I feel that the skills I have learnt and the problems that we overcame have really benefited me in becoming more confident within myself and that things are possible! It was so much fun and I am really glad that I had the opportunity to take part in the competition."

- chloe futter (year 10)
"This competition has been an amazing opportunity. I've gained so much, including the experience of being interviewed, which will help me in the future as this was my first ever interview! The competition has made me love STEM even more and makes me want to continue this and have a career in STEM."

- Grace steele (year 10)Chloe Futter (year 10)
Fellow Design & Technology student Bethany Keenes, in Year 7, has also achieved a great result in a separate national competition. The 11-year-old has been chosen as the secondary school runner up in a national competition to 'Design a Sustainable City'. Run as part of STEM Clubs Week 2020, the competition challenged young people from across the UK to design a city for lots of people to live in, but which avoided damaging the planet as much as possible. The designs needed to consider elements such as clean air, water, energy and transport, the types of materials used, and the inclusion of green and wildlife friendly spaces. The judges praised Bethany's design, which included using salvaged materials, sheep's wool as insulation and creating the roads from recycled plastic, for its high levels of thought and ingenuity.
Alastair Ogle, school Principal, said: "I am really proud that once again some of our excellent students have demonstrated the ability to produce work recognised as being among the best in the country. Congratulations to the students and Mrs Moffat for inspiring them to be so creative."